A new feature where I tell you my top five books by genre. 
I recently did my Top 5 Fantasy and SciFi  books, so I decided to make this a feature and do my Top 5 books across different genres!
As I've previously mentioned, Romance is my go-to genre when I don't have a lot of time to do basically anything. When uni gets stressful, and I have too many obligations, I can only handle easy reads which require minimal thinking. Not to say anything bad about the Romance genre (this is in fact a top five post), but I just find the predictability and cliche-ness of Romance really comforting. Also, almost everyone of these books features a hate-to-love relationship, or a relationship where there's a lot of tension, a lot of push & pull because I am trash. ALSO, I realize that some of these have some problematic aspects to them, I acknowledge it, and by no means do I think any of these are perfect, just to be clear. Oh, and most of these covers are really cringey and I hate them.
5. The Off-Campus series (The Deal & The Score) by Elle Kennedy
This is a recent read for me, but it became a fast favorite. This is a New Adult series that follows a group of hockey players on a college campus, and each books is focused on a different couple. This is your regular "he seems like a stupid hockey player, but he is hot, and it turns out he is actually really smart and wonderful" story, but it works like a charm. The tension between these characters is written really well and the story is beyond addictive. I will say that I only liked the first – The Deal and the third book – The Score. Since this is a companion series, you can totally read just those two, which I recommend.
4. I've Got Your Number by Sophie Kinsella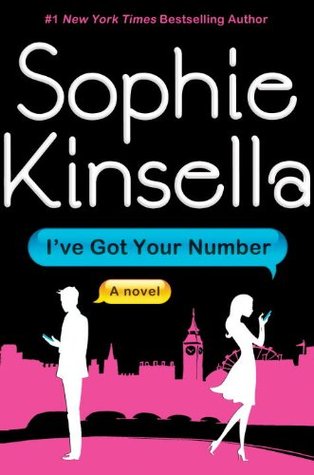 Kinsella is one of my favorite Romance authors. All of her books are funny and cute and definitely a lot of fun. This one is my favorite because it is hilarious with a brilliantly awkward heroine and I had so much fun reading it. Another one of hers that I love is Remember Me? which you can also check out! Oh and if you're looking for some less explicit romance, Kinsella is the way to go!
3. Anything You Can Do by R.S.Grey
Another recent read, but this one is kind of a cheat, since I liked all of R.S.Grey's books I read. She writes sweet, funny romance novels, like a rom com in book form. This one is a personal favorite because it features – you guessed it – a hate-to-love relationship. Her The Allure duology (series?) is also really good if you're looking for something cute to read.
2. Bad Romeo & Broken Juliet by Leisa Rayven
This duology is really intense. It's a story of a second chance romance between two actors and I really enjoyed it. It's one of the most tense relationships I ever read about, and it follows the couple both in past when their relationship was a mess and in the present, when they are trying to work it out. This is also one of those rare Romance books where I like both of the main characters. Definitely recommend.
1. The Hating Game by Sally Thorne
My most recent Romance read, but it sky rocketed to my number one favorite immediately. So much so, that I even read it twice. I never reread these books because honestly, they are ridiculous the first time around, let alone the second. But I finished this one, and I started it again the next day. One of the best written romances in my opinion. More on it in my review, but definitely recommend.
There we go! Hope you enjoyed the post, and let me know if you read Romance and what are some of your faves. Also, my next Top 5 will be Literary Fiction, which doubles as my favorite books of all time, so you have that to look forward to!
xxx
Follow me on Bloglovin' | Goodreads | Tumblr | Books Amino | Twitter | Instagram
*Above used Book Depository links are affiliate links which means I get a small commission if you buy a book through my link, which helps me out a lot!