A weekly feature where I share new books on my ever-growing TBR.
Another week, another TBR additons post! I've listened to my podcast, so I am all set to tell you about new books I've added in the past week! They all sound super great, and I got one of them already. When I'll read it is an entirely different question however. Anyways, let's start! Only three books this week, but all three super exciting!
1. The Dark Prophecy by Rick Riordan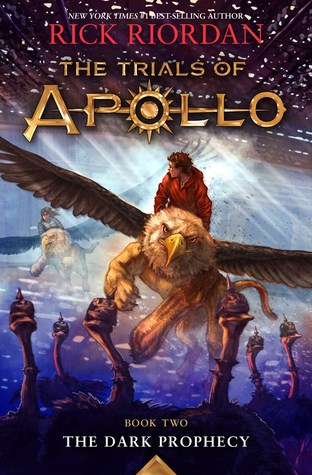 Why I added it: I loved the first book in the series, The Hidden Oracle. After I was a tad disappointed by Magnus Chase, it was awesome to read a Riordan book I actually enjoy. Apollo is such a fun character, and this book promises the return of some of our favorite characters from previous series AND I AM THERE FOR IT. And this is already out! And I got it! Can't wait to get to it.
2. Saints for All Occasions 
by

J. Courtney Sullivan
Why I added it: It's a sibling story! I am a sucker for those (if you have any recs, leave them below). This follows two sisters as they move from Ireland to America, and then later on in the future, when they are estranged and a sudden death happens. We also follow the perspectives of one of the sisters' children and we all know I love a multi-perspective family story. It sounds super great.
3. Man of the Year: A Memoir by Lou Cove
Why I added it: I am really into memoirs done by random people. I don't think Lou Cove is a celebrity and I just find those kinds of memoirs more interesting and genuine. It's Cove's story about his unconventional family and I am so into that. Especially when it's a true story.
Short, but sweet for this week's post! You can check out the rest of the post in this series HERE, and as always, I implore you to share with me some of your new book finds!
xxx
Follow me on Bloglovin' | Goodreads | Tumblr | Books Amino | Twitter | Instagram
*Above used Book Depository links are affiliate links which means I get a small commission if you buy a book through my link, which helps me out a lot!