A feature where I tell you my top 5 books by genre. 
I am back with another Top 5 post and this week we're featuring one of my favorite things ever: comics and graphic novels! I am a huge fan of comics, I love the concept of mixing art and books together and I also love how easy reading comics is. You get a whole story, but you don't have to offer the same commitment that you need for books – most comics can be read in an hour. And they can be just as satisfying as books! And they are the ultimate eye candy. I value both the story and the art (duh), but sometimes, great art can compensate for the lack in plot fpr me! SO I am going to share with you my favorite comics and graphic novels, which I think are a perfect mix between beautiful art and spectacular story!
An Honorable Mention – Blankets by Craig Thompson
If you don't want to commit to a multiple volume comic series Blankets is perfect for you. This is a beautiful graphic novel in which the author tells us about his life, most prominently about his first love and his relationship with his brother. It's beautiful and sad at times, and it explores such a wide range of important topics. Definitely worth your time. And the art is spectacular!
5. Descender by Jeff Lemire and Dustin Nguyen
Now, this is one of two Lemire's comics on this list and it is so awesome. It's a cosmic odyssey where we meet a young robot who wakes up and searches for his family (he is a companion robot, so he was part of a human family), only to find out that androids are outlawed, and he gets trust into an epic struggle to stay alive. The story is brilliant and unique, and the characters are really wonderful, but the art is what I love about this. Nguyen's style is very specific, it's all watercolors and muted coloring, but it's STUNNING. And I was wondering how it would work with the story, but it does wonders for it. Definitely check this one out.
Here's a little sampler of the art:
4. East of West 

by

Jonathan Hickman, Nick Dragotta & Frank Martin
This is one of the most spectacular comics I've ever read. This is the story of the Four Horsemen finally gathering to finally put an end to humanity. Except one of them, Death, has a different agenda. This is incredibly well written. One of the most literary comics I came across and the writing can be so stunning it beats some of the fiction I've read. The story is incredibly complex and requires focus, but it's so rewarding and gratifying to read. Entirely unique, smart and witty, with gorgeous art and color schemes that complete the experience. Oh and did I mention that it's a space western? Well, it is. Definitely recommend.
And a little art sampler:
3. The Wicked + the Divine by  Kieron Gillen, Jamie McKelvie, Matt Wilson & Clayton Cowles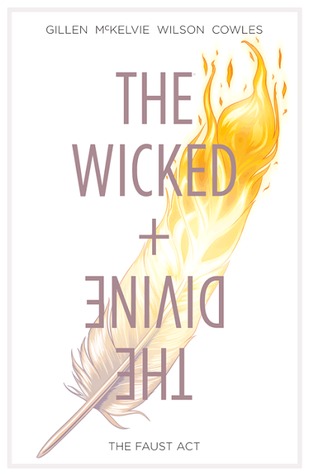 Now this one is pure fun. It's crazy, but at the same time so spectacular. And it's diverse so that's a big plus for it. The main premise is that every ninety years, twelve gods incarnate as humans. And they are gods from many different religions and stuff, so it's so much fun to see the "mythology" behind them. Oh and they incarnate as POP STARS. And the world loves them. But every time, they are dead in two years. IT'S SO BRILLIANT. The plot is fast paced, and every volume ends with a bang, so you're never bored. AND out of all five, this has my favorite art ever. I would plaster my whole house with images from this. The colors and the style… It's stunning. Some people found it confusing, but get through the first volume and all the pieces start adding up. And they add up to pure awesomeness.
And the art (yeah it's that pretty):
2. Giant Days by  John Allison, Max Sarin & Whitney Cogar
I've talked about this previously but I adore this series. This is the only contemporary on this list, and it follows the lives of three friends who just started university, and all the trials and tribulations of that college life. Part of the reason why I love it's so much is probably because I can relate to it so much, but even without that factor, this is just amazing. It's funny and smart, heartfelt at times and it explores so many topics, from sexuality to feminism and it's one of the rare comics where I actually care about the characters and I am emotionally invested in the story. The art is obviously gorgeous, in this cartoonish sort of way (which I really LOVE) and it's all around wonderful. GET IT NOW.
As for the pretty art:
1. Sweet Tooth 

by

Jeff Lemire
This is the only series on this list that is already finished, so you can just marathon the whole story immediately. Which you definitely should. It's such a unique and complex story that starts out as one thing, and definitely surprises you with what it becomes by the end. We follow Gus, who is a boy, but he is also an animal/human hybrid, which is a new race that started emerging after a pandemic that happened some time ago. Gus' father dies, and he is left to fend for himself, until he meets this rugged, mysterious dude named Jepperd that takes him under his wing and the story goes from there. It's this wonderful exploration of what it means to be human, and how we treat difference and how we treat prejudice and it's just so amazing. I legit bawled my eyes out when I finished it. And it's really hard for me to cry at a book. Or just cry in general. Let alone a COMIC book. But this is just so great. I will say that the art itself isn't my favorite ever, but it works so great with the story and it works FOR the story, so I ended up loving it. You need to check this one out.  Get it on Book Depository 
As for the art (yeah, it's kind of weird):
So that's it for my Top 5 Comics! You can check out the rest of the Top 5 series HERE, and be sure to let me know what are your faves from this genre! Oh and let me know if you're a book crier!
xxx
Follow me on Bloglovin' | Goodreads | Tumblr | Books Amino | Twitter | Instagram
*Above used Book Depository links are affiliate links which means I get a small commission if you buy a book through my link, which helps me out a lot!