Let's embark on a shipping adventure.
I don't know how, but couples and shipping are a big part of YA. You might have an issue with that, but I personally don't. Since I read a lot of literary fiction, I don't have the opportunity to enjoy couples in a way that I do when reading YA. What I mean is that, while there's a relationship or a couple of some sorts in almost every book I read, there's just no way you can actively "ship" a couple in a literary fiction book. Or at least I can't. So most of these are YA books, and some of them I read AGES ago, but still these character remain my favorite relationships of all time. These aren't in any particular order, but I do have a favorite, which I will point out in the meantime. Here we go:
1. Cath and Levi (Fangirl by Rainbow Rowell)
Honestly any Rainbow Rowell book might work. She has a knack for writing really realistic characters and relationships that seem so natural and real and I love them. However, Cath and Levi are my favorites. I love how they compliment each other, with Cath being introverted and sort of socially anxious, while Levi is so boisterous and easy going. I love their dynamic. And I really enjoy their bickering and back-and-forth. This is a common theme you'll see in this post. I just love those couples that bicker and have great dynamic.
2. Hermione and Ron (Harry Potter by J.K. Rowling)
Now, I know some people don't like them together, but I adore them. That whole trope of a smart girl and a sort of goofy, class clown together is something I really love. Besides, I loved how their relationship progressed from the get-go and I've always rooted for them. I think the movies did a great injustice to Ron's character and at the same time made Hermione more perfect than she was, but their book dynamic is so amazing and I really love them together.
3. Ronan and Adam (The Raven Cycle by Maggie Stiefvater)
This is definitely my favorite book couple of all time. I adore Ronan's character and by extension I love this relationship. But I think it works and makes sense. This is a quiet and subtle one, that progresses throughout the series, and as Stiefvater builds their individual characters, their relationship starts to materialize as well and it's BRILLIANT. I love Blue and Gansey as well, but I settled for one couple per book and Ronan trumps all.
4. Lizzie and Darcy (Pride and Prejudice by Jane Austen)
The og of hate-to-love relationships. I love Elizabeth as a character, I think Austen wrote her as a woman who is ahead of her time and I really love how determined and smart and witty she is. And the two of them together just work so well. And I love the 2005 movie. I sometimes think of it as more canon than the actual book.
5. Percy and Annabeth (Percy Jackson and the Olympians by Rick Riordan)
I read this one ages ago, so I have no idea if this would still be a favorite upon reread, but I rememeber loving them together. It's sort of similar to the Ron and Hermione thing, as in Annabeth being this smart girl and Percy being a funny, sarcastic guy. And I also feel like they became friends first, and then a couple, which I always like seeing, it feels more real and natural. And I remember them having this amazing back-and-forth conversations, which I loved.
6. Nina and Matthias (Six of Crows by Leigh Bardugo)
Now I know everyone adores Kaz x Inej (and I do too!). Promise. But I like them more as individuals than I like them together. Nina and Matthias however I adore as a couple. I love how Matthias is very conventional and set in his ways, while Nina is the opposite. She is very independant and does what she wants. They challenge each other all the time and I really loved them together. Kaz and Inej are great too. So are Jesper and Wylan!
7. Josh and Lucy (The Hating Game by Sally Thorne)
I've talked about this on numerous occasions, but I really love this couple. It's your typical office hate-to-love romance amd it's a lot of fun, with great banter. What's not to love?
8. Auden and Eli (Along for the Ride by Sarah Dessen)
This is a really great summer contemporary and I love Auden and Eli as a couple. I feel like they became friends first and then everything sort of happened naturally and easily between them. They both had some stuff to deal with, so their relationship was sort of the backdrop to that, and they just enjoy each other's company so sincerely, and it is awesome.
9. Mia and Michael (The Princess Diaries by Meg Cabott)
I loved these books when I was younger and I really loved Michael. Even though this was a very teen book, I still loved them together. And I liked how Mia progressed and grew up throughout the books and how that affected her relationship with Michael.
10. Magnus and Alec (The Mortal Instruments by Cassandra Clare)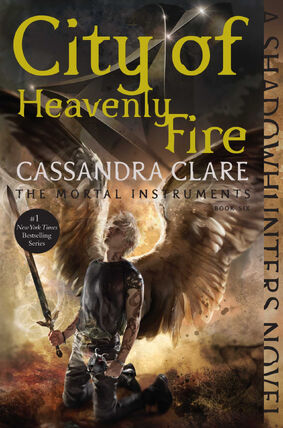 Now this is the first LGBTQ+ I ever read about and I remember how refreshing it was to see that portrayed in fiction. Although Clare's writing has a lot of problems to it, I really love both of their characters and I really love them as a couple. I remember liking how they had this sort of an unequal relationship and how Alec struggled with that, so I enjoyed that aspect as well.
So those are my favorite fictional couples! Let me know what are some of yours in the comments below!
xxx
Come hang out with me:
Follow me on Bloglovin' | Goodreads | Tumblr | Books Amino | Twitter | Instagram
*Above used Book Depository links are affiliate links which means I get a small commission if you buy a book through my link, which helps me out a lot!