A weekly feature where I share new books I discovered in the past week. 
Lots of great books this week. I've listened to my podcast, I've been checking out what's everyone reading on Goodreads and I have some great books to share this week! Let's jump straight into it!
1. After the Eclipse: A Mother's Murder, a Daughter's Search 
by

Sarah Perry
Why I added it: This is a non fiction book which isn't out until September, but it's one you should look out for come September, because it's a story about Sarah Perry's mother – her murder, the trial of her murderer, but also her life as seen by her daughter years after her death. It sounds so amazing.
2. Eliza and Her Monsters 
by

Francesca Zappia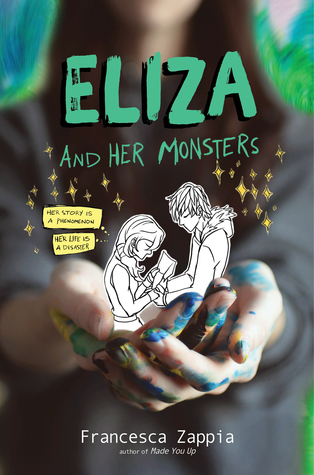 Why I added it: It's giving me serious Fangirl vibes, and you know I love that book. It's a story about this girl who has a super popular webcomic, but no one knows her identity and then she meets one of her fans, and she kind of likes him? Sounds super cute. And if the name sounds familiar, it's because the author had a book that was super hyped last year (I think) called Made You Up. 
3. Standard Deviation 
by

Katherine Heiny
Why I added it: This is such a me book. It's about a family and it's sort of a slice of life. Graham is married to Audra, a woman much younger than him, and his second wife (he cheated on his first wife with her), and they have a ten year old son who is somewhere on the Asperger spectrum. And this is just a book about their life, about marriage and love, and infidelity and also how to deal with the fact that you can't always help your child. It sounds amazing!
4. Chemistry 
by

Weike Wang
Why I added it: This is a book about an unnamed female scientist who has a crisis about her professional life, her love life and just life in general. It sort of deals with the expectations that people have for you and the fact that sometimes you really don't want to do those things. Seems pretty relatable, let me tell you.
5. Augustown 
by

Kei Miller
Why I added it: This is one of those books I add solely due to the general feeling they give me, and for some reason this book seems promising. This book follows Ma Tafi, a blind old lady, but she is one of those people that senses things (in a way), and one day her great-nephew comes home crying, and she instantly senses a deep fear about what happened to him. Also, this is set in Jamaica and it sounds super awesome.
6. Inferior: How Science Got Women Wrong—and the New Research That's Rewriting the Story 
by

Angela Saini
Why I added it: Feminist non fic is almost instantly added to my TBR. But besides that, this deals with what "scientific" research has over the years said about women, and how we continue to research and disprove this so called facts. Super duper fun. And yay science!
So those are some new books I am really excited about. As always, you can share your recent finds with me in the comments below and let me know if any of these book peak your interest!
xxx
Come hang out with me:
Follow me on Bloglovin' | Goodreads | Tumblr | Books Amino | Twitter | Instagram
*Above used Book Depository links are affiliate links which means I get a small commission if you buy a book through my link, which helps me out a lot!