A weekly feature where we talk about new books I added to my TBR.
I am back on track with these updates, and so glad to be! I have some great books to talk about and them, and if you enter my giveaway HERE, you can maybe get one of them.
1. Black Mirror: Volume I
by

Charlie Brooker
Why I added it: I am so EXCITED that this is happening. Black Mirror is one of my favorite shows, and I think it's so smart and amazing and to have it in book form??? It's gonna be awesome. It's a short story collection, edited by the series creator, and I think it will feature a lot of authors. The only downside is that we have to wait until February to get this. Sigh.
2. The Gentleman's Guide to Vice and Virtue 
by

Mackenzi Lee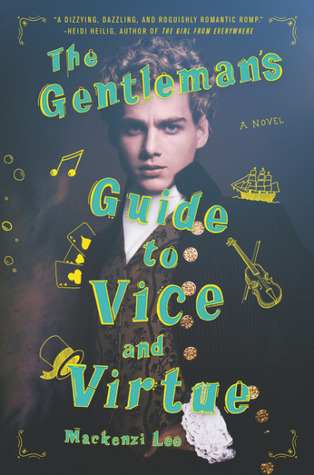 Why I added it: It's a miracle if you haven't heard of this one because it's been making the rounds all over the Internet. It's a story set in the 18th century, but with a twist of fantasy and magic. It's about pirates and it has a gay main character and I can't wait to get it!
3. The Prey of Gods 
by

Nicky Drayden
Why I added it: Because it sounds completely insane and I love it. It's set in South Africa in the future I believe, and everything has gone to hell basically. I am gonna leave you with a quote from the blurb and I dare you not to be intrigued by it:
"It's up to a young Zulu girl powerful enough to destroy her entire township, a queer teen plagued with the ability to control minds, a pop diva with serious daddy issues, and a politician with even more serious mommy issues to band together to ensure there's a future left to worry about."
Like what even is that? Brilliant. And the cover??? Uh, so good.
4. Midnight at the Bright Ideas Bookstore 
by

Matthew J. Sullivan
Why I added it: This is a mystery novel and the main premise is that our main character, Lydia, works as a clerk in a bookstore and there's this band of quirky people who frequent her bookstore. One day, one of them commits suicide, but he leaves notes for Lydia in books and she sort of starts to unravel this mystery. It's supposedly quite dark so I am looking forward to picking it up.
5. Hunger: A Memoir of (My) Body by Roxane Gay
Why I added it: I am not sure if I talked about this one before, but I love Roxane Gay. She is an amazing writer and she is so outspoken and I just love the way she talks about certain topics. This is a memoir of hers which focuses on her body and her relationship with it and with food and it's supposed to be brilliant, but also quite harrowing because she shares some really awful stuff that happened to her in the past and how that affected the way she feels about herself and her body. I can't wait to get to this one.
So, those are all the new books on my TBR! As always, let me know if any of these catch your eye, and also let me know if you've discovered some new books recently!
xxx
Come hang out with me:
Follow me on Bloglovin' | Goodreads | Tumblr | Books Amino | Twitter | Instagram
*Above used Book Depository links are affiliate links which means I get a small commission if you buy a book through my link, which helps me out a lot!