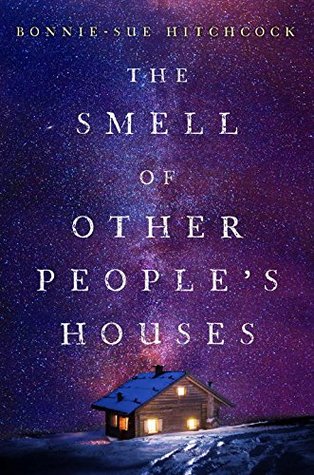 The lives of four teenagers in 1970s Alaska become entangled. 
I have seen this book pop up from time to time in the bookish community in the past year. As always, what drew me to it is not the story itself, but the title. I tend to verge towards books with interesting titles. And that title! I love it. Matched with the gorgeous cover, the book was instantly on my radar.
This is a multiple POV story and we follow four different teenagers' perspectives as they deal with their lives in the rural part of Alaska in the 1970s. That's what really makes this book stand out. The setting is so unique and different than what you're used to. I know nothing about Alaska and it was really interesting to see a story that is set against that backdrop, and we even got to explore a bit of politics, with some mention of the statehood and how it affected the citizens of Alaska. Also, the Alaskan imagery was really pretty, and made this almost magical atmosphere.
Which leads me to my next point, and that's the writing. Hitchcock's writing is really beautiful. It's sort of hazy and poetic and matches the backdrop she created perfectly. It's really atmospheric and it really pulls you into the story.
This is obviously a character driven story, and the characters are wonderful. I really enjoyed all of them. We follow Dora who comes from a difficult family background, Ruth who finds herself dealing with a very serious secret, Alyce who struggles between her dreams of being a dancer and the fear of disappointing her father and finally, Hank who is struggling to protect his brothers the only way he knows how. I enjoyed every single one of them in a different way. I found them all interesting, and I wasn't eager to spend more time with a specific character – I loved every single perspective. And there's also a myriad of side characters that are spectacular and their relationships to our main four were wonderfully portrayed.
However, I was really detached from the characters and the story for the first half of the book. I loved the characters, the writing, the plot, but I just wasn't connecting with it. I am not entirely sure why. But, when the POVs started to converge and mix, that's when I started to become more invested in the story, and by the end it really got to me.
This is a quiet, and unassuming novel, but also a very heartwarming one. It's a story about family and friendship, dark at times, but very rewarding by the end. I would highly recommend it.
Final verdict: 4 stars
That's it for this review! Hope you enjoyed it and let me know in the comments if you have read this and what were your thoughts on it!
xxx
Come hang out with me:
Follow me on Bloglovin' | Goodreads | Tumblr | Books Amino | Twitter | Instagram
*Above used Book Depository links are affiliate links which means I get a small commission if you buy a book through my link, which helps me out a lot!