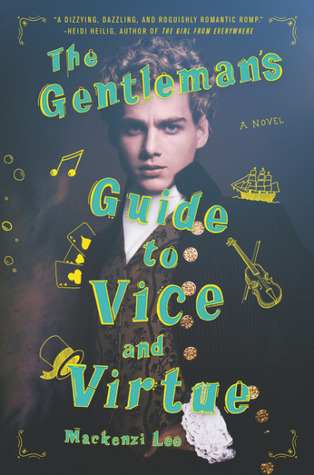 Adventure, growing up, and even some pirates. 
I knew as soon as this started getting around that I wanted to read it. It's rare for me to be so excited to read a really hyped up book, but I just had a feeling that I would love this. And I did.
This book is set during the 18th century, as our main character Monty, embarks on a Grand Tour of Europe with his best friend who he is also in love with.
Firstly, I really loved the way Lee brought 18th century to life. I think she created the perfect atmosphere and managed to get the feel of Europe in that time quite well. From the first page, I was instantly transported and the book was so engaging that I never wanted to put it down.
The characters were also spectacular. I loved Monty from the first sentence. He is a wonderful, charming main character that brings so much life to the book. He is smart and funny, but also incredibly flawed. He is self-centered, spoiled and selfish, but you can't help but root for him. He was an absolutely fantastic character. And as the book kept progressing, I started to love all of the characters. Percy is also an amazing character. He is kind and lovely and his relationship with Monty is so well done. And obviously, I adored Felicity. She is this feminist badass, but also quite annoying at times, and she is one of those "can't help but love" characters. Also, every character they ran into in their adventure was also really great.
This book also featured a lot of really serious and heavy topics, and they were all done really well. The topic of homophobia and abuse, especially in the context of the setting itself was handled really exquisitely. There's also the topic of mental illness, which was really well explored when you take in the time and place of the novel itself. I really liked how all of these important themes were included in an otherwise really exciting and fun book, and how they brought a new depth to the whole story.
Above all, this book is pure FUN. It's an exciting page-turner that you'll read in a single breath. It's hilarious at times and really heartfelt at others. Highly recommend it obviously.
Final Verdict: 5 stars
Please let me know if you've read this and how you liked it, or if you're planning on reading it soon!
xxx
Come hang out with me:
Follow me on Bloglovin' | Goodreads | Tumblr | Books Amino | Twitter | Instagram
*Above used Book Depository links are affiliate links which means I get a small commission if you buy a book through my link, which helps me out a lot!