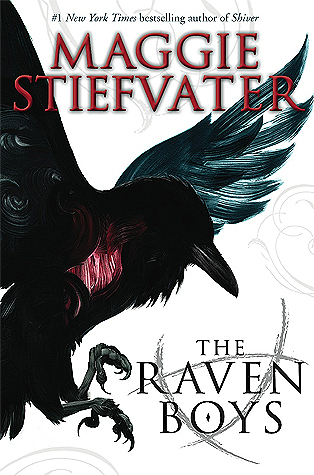 Another day, another Raven Cycle post.
As some of you may know, I am hosting a readalong for The Raven Cycle as I and a few other people re(read) The Raven Cycle throughout the month of August. You are still most welcome to join the readalong! As for me, I finished the first book, The Raven Boys, and I figured I would finally write proper reviews for the series, since this is one of my favorites.
However, when I say proper review, I don't mean the kind of review you're used to seeing on the blog. Firstly, this will be SPOILER FILLED because the whole point of the readalong is to discuss the book as a whole. Secondly, this will most likely be less coherent than usual because I have a lot of feelings about this series.
SO with all of that out of the way, let's discuss away, shall we?
This book gets better and better with each reread.
This is my third time reading this book, and I'd like to point out somethings I've realized. It just keeps getting better. When you know the plot and the overall story arc, that leaves a lot of room in your reading. What I mean by this is that since you're not engrossed in what is going on, you can focus more on the writing, and the character development and the overall craft of Maggie Stiefvater. And that is a glorious experience.
On one hand, it's spectacular to see how atmospheric and eerie Maggie's writing style is. There are a lot of subtle ways that she uses to make her writing fit her setting (rural Virgina) and her story (the search for dead Welsh kings). Just the way she writes exudes the magic she writes about. Maggie's writing is hazy and melancholic, but it also feel really ancient and etheral. And that's the kind of story she is writing, that's the kind of magic her characters encounter. That's something I really appreciated upon this reread.
Also, since this is my third read, I can notice how much foreshadowing there actually is. I LOVE THAT. It speaks of the author's attention to detail and it speaks of the fact that they don't write their books in an off-hand way (unlike some people). Their story is already set in the first book. Things are already thought out. There's no manipulation in later books. I just really love foreshadowing. It was especially obvious in the way Noah was written. There's a tone of allusion to him being tied to the final scenes in The Raven King. There's also a lot of mention of circles and circular time and storylines, which is basically what this series is. So it was really clever, and it was satisfying for me as a reader to experience.
However, this kind of writing takes getting used to. It's different and so unique that it takes time for you to truly start appreciating it. This is why I think a lot of people dislike the series and I think that upon reread these books truly prove to be wonderful. But obviously, not everyone would want to reread the book until it starts to make sense, so that might be the series' downfall.
It's about the characters.
One more thing that was really great to experience again is obviously the characters and their dynamic. You probably heard this a thousand times, but the characters are the strong point of these books. The plot is at best messy (more on that in the reviews to come), but it's not about the plot. It's about these characters and their relationships, so it was great to once again experience great character development and great character building. It is definitely the best I ever read.
Few things that caught my attention this time around:
Adam's characterization is something marvelous. I stand by my initial statements – I strongly dislike Adam in the first two books. I understand him. Completely. I just don't like him. But the way Maggie writes his character is just superb. He is going through abuse and an awful home/living situation. He is poor and he is struggling to make his own way in life. But the main characteristic Maggie always talks about in relation to Adam is wanting. He is constantly desperate with desire. Desire to be free. To be his own person. To have money and security. He is in a constant state of want. I love that.
I also completely forgot how incredibly complex his relationship with Gansey is, the multiple layers of it (as with any relationship in these books). That juxtaposition between adoring Gansey as his best friend, but also hating him for his money and family and looks and for just being Gansey. One of the reasons I strongly dislike Adam in this book is the way he acts towards Gansey. I get it, but I hate it and can't entirely justify it.
Also there's a lot of little clues about Ronan and his life, and his dreams and Adam and I loved it. Also a lot of little clues about Blue and Gansey which was also really fun to experience once you know what's gonna happen.
I also payed a lot more attention to the whole magic aspect of it. Cabeswater was so wonderfully written, and I never paid a lot of attention to that before. It's eerie and sentient and alive and I absolutely loved it this time around. So much of it is Ronan it's ridiculous, but also amazing.
All in all, I finally caved and rated this 5 stars. When I first read it, I gave it only 4, and then the second time I read it I left the 4 stars because I was too attached to the series and couldn't discern clearly from my feelings. However, this time around I can say that this is fully and truly BRILLIANT and deserves no less.
Final verdict: 5 stars
I've included for your viewing pleasure some of my favorite fanart because why not? It's all so pretty. Clicking on the image takes you to the author's blog!
That's it for this spoilery discussion/review/I'm-just-rambling-on type of post! I hope you enjoyed it and as always, I would love to hear your thoughts!
xxx
Come hang out with me:
Follow me on Bloglovin' | Goodreads | Tumblr | Books Amino | Twitter | Instagram
*Above used Book Depository links are affiliate links which means I get a small commission if you buy a book through my link, which helps me out a lot!