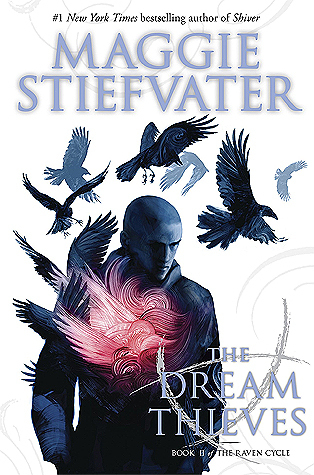 Another day, another Raven Cycle post.
As some of you may know, I am hosting a Raven Cycle readalong throughout the month of August and during the last week I read The Dream Thieves. I am having so much fun rereading the series and finding new things to love about it. If you haven't seen my review for The Raven Boys and the first week wrap up, you can do so HERE.
Also, I'd like to give a quick shoutout to Jenna over @ Bookmark Your Thoughts and Gianina (I can't find your blog, if you see this let me know what it is!) because they have been reading the series with me and engaging in the discussions on the Goodreads group. So definitely go check out their blogs.
As for The Raven Boys, this will be a SPOILERY discussion type review, so if you haven't read this yet, stop reading this post now and come back when you do read The Dream Thieves. Also, I've once again included some of my favorite TRC fan art and clicking on the images will take you to the artist's blog!
First things first – RONAN LYNCH.
This is my favorite book in the series. And that is due to the fact that this is mostly Ronan's book. The story shifts focus to Ronan here and we find out a lot more about him and his life. I obviously loved that. Ronan is my favorite character and seeing his development in the book was awesome. I especially loved how he comes to terms with who (or what) he is and how towards the end (after the Pig debacle), we see him genuinely happy for the first time. I loved the part where Gansey is still mad at Ronan about the car, and then he sees this happy Ronan and catches a glimpse of who Ronan was before Niall Lynch's death.
I also really loved the subtle hints towards Ronan's feelings for Adam. I talked about foreshadowing in the previous post, but we see it a lot in this book as well. The occasional mentions of Ronan dreaming about Adam or thinking about him were so well done and so well interwoven into the story. This is one of Maggie's strong points. She's really good at relationship development and progression and I really appreciated catching all of the things she does in order to build up relationships.
The whole Lynch brother dynamic continues to be amazing. Their's a lot of layers to that family and I really enjoyed more exploration into them.
Also the Ronan/Calla dynamic is my favorite.
There was also a chapter in which Ronan talks to Niall in a dream and the part where we read about what each brother got from Niall Lynch is spectacular. Some of the best writing in the series.

The problem called Kavinsky
I love Kavinsky AS A CHARACTER. I feel like he is a very well written unlikeable character. He is completely lost and so deeply disturbed and I love the way he was written. However, Elise @ The Bookish Actress pointed out on Twitter (by the way you should follow her on Twitter, she is so great) that there are people who ship Ronan and Kavinsky which I find so weird. Kavinsky is entirely toxic and awful to Ronan and I don't see the point of it at all.
I feel like Kavinsky was important for Ronan because it's the first time we see Ronan think (consciously) about his sexuality and he is essential because he helps Ronan realize what he DOESN'T WANT TO BE. He helps Ronan see what his relationship to Cabeswater is and helps Ronan see how he matters. But Kavinsky is awful and there's no place for any sort of romantic involvement there. Kavinsky is a tool in Ronan's character development and a really well written one at that.
Adam Parrish is unknowable
It gets worse before it gets better with Adam. He is a difficult character. He starts going through some stuff in this book and by the end of it he really spirals into his problems. This is where his character arc starts to work forward to what we see in Blue Lily, Lily Blue. He is starting to come to terms with his demons and to terms with Cabeswater.
I really love his mentor relationship with Persephone and how he starts slowly to disentangle himself from his past. The ending is the first glimpse into what we will see of Adam and what kind of character he becomes and I loved that.
I also think that his "breakup" with Blue is one of the best written scenes in the books. It's so so well done and emotional and I really loved it.
The introduction of The Gray Man
I love the Gray Man. I think his character is so interesting. A really dangerous hit man running from his past. I love his relationship with Maura and I love how he struggles with the fact that he is starting to like her and Henrietta and this way of life. I think he is a wonderful addition to the cast of characters and I love his development.
Finally, Blue x Gansey
I love them as a couple and the progress of their relationship is so endearing and I love it. We see them both be frustrated by each other and by the fact that they are starting to be really into each other. There's also a healthy dose of guilt, both because of Adam and from Blue's side because Gansey is to die in a year, possibly because of her. I find their relationship to be quite different than the other dynamics of the group. I think it's really sweet and lovely, but also very powerful at the same time. There's also a lot of surprise on both sides that they actually like each other that way and I think that's genius.
So those are all the thoughts I had to share. As always, I'd love to hear your thoughts on the book or the series in general. Anything you'd like to say, really!
xxx
Come hang out with me:
Follow me on Bloglovin' | Goodreads |Facebook| Tumblr| Twitter | Instagram
*Above used Book Depository links are affiliate links which means I get a small commission if you buy a book through my link, which helps me out a lot!