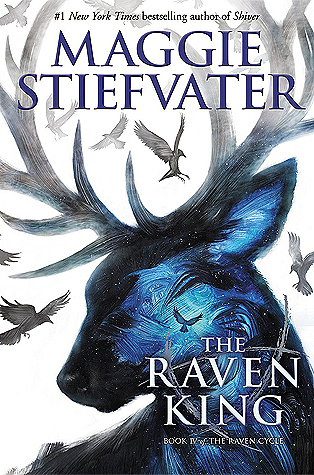 Depending on where you began the story, it was about…
So #TRCAugust finally comes to an end. I have to say, I absolutely loved revisiting the series. Back when The Raven King came out, I simply devoured it in two days and I felt like I read it too quickly. So this time, I took my time, I was a bit distanced from the story, and thus I have many thoughts I want to share. If you're interested in my thoughts on the rest of the series, you can find the reviews HERE.
As for a wrap up on the whole experience, I absolutely loved it. Revisiting one of your favorite series is so much fun and nostalgic and just overall great, because you're bound to enjoy it. This pushed me to start getting back into rereading, since I don't do it nearly enough.
As before, some of my fave art is here, you can click on the pics to go to the artists' blogs. Anyways, let's get into the nitty-gritty of it all, shall we?
Let's Address the Elephant in the Room
I have mentioned multiple times how much I hate Henry Cheng. I was not excited about his role in The Raven King at all. But I never could put my finger on why exactly that is. Well, this time around I figured it out. It's not that I don't like his character. I actually can relate to Henry a lot, and I love the way Maggie writes about Henry. But. There's a part where it's mentioned that Ronan is jealous of Henry, and that's exactly how I felt. He was there too fast, too much, and he didn't earn it. His character is in stark with everything else that happens in the book. Everything is kind of slow and organic, and then Henry is just bam. I realized on reread that that's kind of the point, but I still don't like him. I said multiple times that perhaps I would prefer it if he were a girl, because lord knows Blue needed some female friends.
Noah 
I think what most people hated about this book was Noah's story resolution. For me personally, I never felt like Noah was robbed of something. I love his character and I wish he was a bit more involved, but for me it was expected that he would stop being. I never really expected that he would come back to life, so when he didn't and the way he didn't feel really logical to me. I would have loved to see it, but to me his "sliding away from time" made sense, even though it was heartbreaking. And although I've seen a lot of people being angry about Noah, I loved the whole Raven Day bit, and his idea about the trailer truck and how it tied into Raven Day and it was a lot of feelings. I also loved his scene with Calla, when he doesn't want to still move on, and how Calla hugs him. That was also really wonderful, and brought to his character and to the feeling of closure I had for him. ALSO, the chapter about him and circular time and the fact that he said the words to Gansey is one of the best written pieces of the book, and there were a lot of those.
Adam Parrish and His Band of Merry Men
There was this bit where Maura and Mr. Gray talk about something and then he says Adam and his band of merry men, and Maura says don't you mean Gansey and his band of merry men and they get each other's points, but disagree on it. Isn't that just brilliant? It's basically an embodiment (in text) of how you can pin point the main character here. They all grow and get this amazing character arcs (ADAM) and the focus shifts so much and you can't decide who's your favorite and it's just a lot. Kidding, you can decide who's your favorite and it's obviously Ronan.
The Unfathomable and the Practical 
A+++ for Adam's character development. That's all.
Love is in the Air
I can't even begin to discuss Ronan and Adam's relationship. So I'll just point out the scene where Adam and Gansey talk about Ronan and Blue and how well written that is. There's barely any dialogue, and yet so much is said and I just kept thinking how Maggie gives the benefit of the doubt to her readers and doesn't really spoon feed anything and it's just all around great.
The Pacing
I feel like all of the books (except maybe Blue Lily) suffer from off pacing. This also had that issue. It was slow in setting things up, and then really, really fast in wrapping them up, and I feel like a lot got lost in that. It was all rushed at the end and I wish that things started unravelling sooner rather than later so we could have more synced pacing.
The Cycle 
I really felt that this book was clever. In hindsight, and with all of the foreshadowing, this book made a whole lot of sense to me. I loved the circularity and how that was explored and used, and how it all clicked into place, and began and ended with the same things. I really like the idea of time as circular and I really loved how it all played out here.
So my final thoughts are that I really enjoyed this conclusion. It wasn't a really tidy ending and it wasn't at all what I expected, but for me it made sense completely. I get the grievances people had about it all, but I just found this to worked out for me.
Final verdict: 4 stars
That's it for this series of posts! Hope you enjoyed the reviews, and as always, I'd love to hear your thoughts on this book or the series in general!
xxx
Come hang out with me:
Follow me on Bloglovin' | Goodreads |Facebook| Tumblr| Twitter | Instagram
*Above used Book Depository links are affiliate links which means I get a small commission if you buy a book through my link, which helps me out a lot!