Let's get emotional.
I always see people doing these kinds of posts on books that made them cry. That's a bit tricky for me, just because I am not really a big crier. It takes A LOT to get me riled up, not just with books, but in life in general. I cry rarely; in fact I can't remember the last time I cried. So books that do end up making me cry feel that much more special due to the fact that they managed that incredible feat. So I thought I'd share those with you today!
1. Undying: A Love Story by Michel Faber
Chances are you've heard of Faber, but not of this collection. This is a poetry collection about Faber's late wife, who died of cancer and it's absolutely heart shattering. It's raw and gritty and so dark, but so very real and honest and just full of love and emotion. It's not an easy read, but it's incredible. I cried through all of it probably. It's heart wrenching, but it's what poetry should be. It's poetry done right. And I highly recommend you check it out.
All I can do, in what remains of my brief time,
is mention, to whoever cares to listen,
that a woman once existed, who was kind
and beautiful and brave, and I will not forget
how the world was altered, beyond recognition,
when we met. 
2. Sweet Tooth, Volume 6: Wild Game 

by

 Jeff Lemire
This is a surprise in itself, just because it's a COMIC BOOK SERIES. I love comics, but  I don't get emotionally attached to them and their characters. And yet. Lemire does something extraordinary in this volume. The whole series is just spectacular and this volume is no different; in fact it takes everything to the next level. The way he uses art to convey feelings is just superb, and I was tearing up by the end of it. Highly recommend this whole series, if you're looking for a really full bodied, well rounded comic series.
3. We Need to Talk About Kevin 

by

 Lionel Shriver
I have talked on and on about this book, but it really is one of my favorites. It's so intelligent and insightful and just overall well written. And despite Eva being such an unlikable character, and despite her awful relationship with her son, the ending is so good and so spectacularly done, it will make you cry. It just will. Read the book, you won't regret it. You can find my review for it HERE.
4. A Little Life by Hanya Yanagihara
This is a pretty controversial book. Some people love it, some hate it. I am in the former group. This is quite probably one of my favorite books of all time. It is completely emotionally draining though, and I cried from start to finish. A lot. It's devastating, but for me personally just spectacular. It's a 900 page book that never dragged for me, I was so invested in it. I loved it, and you can find my review for it HERE. For a different opinion on it, you should check Janel's review of it, which is also really great.
5. Did You Ever Have a Family 

by

 Bill Clegg
I've also talked about this one on numerous occasions. This was on the Man Booker list a few years back, and it's a debut novel. But you can't tell that. It's so well written and structured. It follows numerous characters and it's about tragedy and family, and the author manages to convey so much depth and emotion in a small amount of pages. And that makes it even more special. The book itself isn't that sad, it's just very heartfelt, and it really got to me. I highly recommend it. A review for it can be found HERE.
6. The Casual Vacancy by J.K. Rowling
This one just doesn't get enough credit. It's a small town story and it's incredibly tragic. We follow the lives of numerous people in a small town in the UK, and we see the fall of these people. All of them suffer and all of them try really hard to just get on, and do the best they can, and it's just so real and gritty and by the end really sad. I loved it and I really think you should pick it up.
7. Harry Potter and the Deathly Hallows by J.K. Rowling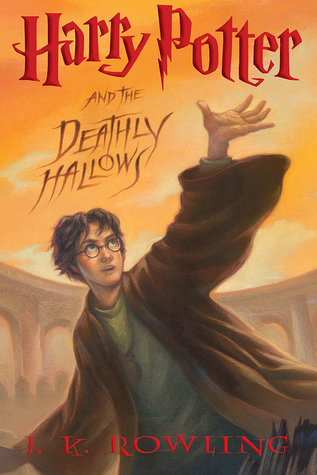 This is my favorite HP book, and it just carries too much with it. When I first read this, I cried through most of it, just because I was so emotionally overwhelmed. It's not particularly sad, but it's the end of a childhood basically, and it's just too nostalgic. It symbolizes a lot to me, and that's why it will probably forever make me cry, no matter how many times I read it (which is a lot!).
So those are all the books that made me cry, ever. All of them are superb and you should definitely check them out if you haven't. I would love to know what are some of your cry worthy books? Let me know!
xxx
Come hang out with me:
Follow me on Bloglovin' | Goodreads |Facebook| Tumblr| Twitter | Instagram
*Above used Book Depository links are affiliate links which means I get a small commission if you buy a book through my link, which helps me out a lot!