A weekly feature in which I share new books I added to my TBR. 
Since uni started STRONG, I haven't got a lot of time to explore and add books to my TBR, so we're back to you not seeing these posts as regularly, just because I don't always have enough books to talk about. But here are some good ones that caught my eye recently!
1. Interpreter of Maladies 

by

 Jhumpa Lahiri
Why I added it: This one I caught on an episode of Recommended. It's a Book Riot podcast where well known authors recommend a book they love. This is a short story collection focused on immigration, specifically on Indian people moving to America and how that affects their life and their traditions and culture. It sounds so wonderful, and the way the author spoke about it made me instantly want to pick it up.
2. Echo After Echo 

by

 Amy Rose Capetta
Why I added it: I was thinking about how I read a lot of books featuring m/m romance, but not ONE that featured a f/f one. So I took to Twitter and asked for recs and the lovely Elise @ The Bookish Actress recommended a few to me. This one caught my eye. It's about a girl who takes on a role in a play, and then things start happening, including deaths and love. I am really intrigued by this one. Plus, the cover is gorgeous.
3. The Abyss Surrounds Us 

by

 Emily Skrutskie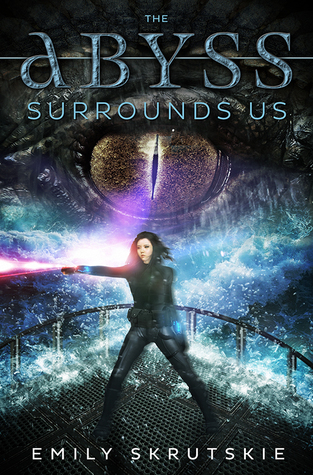 Why I added it: Like the previous one, this is a recommendation, courtesy of Elise, on f/f romance. However, this is one I have heard of before. This is a Fantasy/Sci-Fi Young Adult and it sounds exactly like something I would enjoy. There's space pirates and genetically-engineered beasts. What more can you ask for?
4. Turtles All the Way Down by John Green
Why I added it: I was never a HUGE John Green fan, but I did read all of his books. I wasn't really blown away by them, but I did love Paper Towns and The Fault in Our Stars back when I read them. However, I am really excited to read this. It's getting a lot of positive buzz from reviewers I trust, so I am excited to read this one.
5. The Best American Short Stories 2017 by Meg Wolitzer
Why I added it: I love these collections. The fact that really great authors sit down and edit these collections and pick the BEST of the best short stories gives me hope that this is something that will make me love short stories. I will get there!
That's it for this week's TBR additions! As always, I'd love to hear about new books you've discovered and added to your TBRs!
xxx
Come hang out with me:
Follow me on Bloglovin' | Goodreads |Facebook| Tumblr| Twitter | Instagram
*Above used Book Depository links are affiliate links which means I get a small commission if you buy a book through my link, which helps me out a lot!