A weekly feature in which I share new books I added to my TBR. 
Merry Christmas to everyone that celebrates it! I hope all of you are having a wonderful time whatever you're up to. And I hope you got heaps of books as presents, because that's the only present there is, right?
Anyways, I am back finally. I had to take a break and actually study and finish some exams, but now I have a bit of free time, and you can except every POSSIBLE end of the year post soon (i.e. when the year is actually over)!
For now, let's look at some awesome books I added to my ever growing TBR recently!
1. Hormonal: The Hidden Intelligence of Hormones by Martie Haselton
Why I added it: I love biology. I love science. Especially when it focuses on women and their hormonal and sexual behavior. I feel like women get so much shit for being "hormonal" and I love the concept of a book that dives deep into the science of hormones and explains why PMS may have evolved, how the Pill affects women and other cool and exciting stuff. I would really love to get to this one soon and read it slowly, chapter by chapter and just learn new stuff and have fun.
2. Jade City 

by

 Fonda Lee
Why I added it: Because someone, somewhere on the Internet said it was good probably. I know it has djinns and that sort of vibe reminds me of one of my favorite series as a child – Children of the Lamp. I think the concept of djinns is so cool, and I hope I hadn't imagined that Jade City includes djinns. It's been getting ton of buzz and I haven't read an Urban Fantasy in ages so I am really into getting excited for this one.
3. Traitor's Blade 

by

 Sebastien de Castell
Why I added it: I got this one recently, so I figured I might as well add it to my TBR. The reason why I bought it is because it's promised to be a "Three Musketeers meets Locke Lamora" kind of book and that's all I ever needed but never knew I did.
4. Leah on the Offbeat 

by

 Becky Albertalli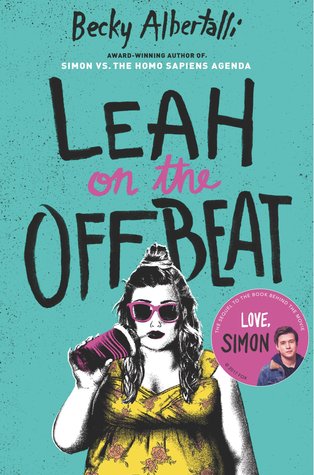 Why I added it: Have you seen how obsessed I've been with Simon vs the Homo Sapiens Agenda? Well, I have been. Here's the evidence (it's my review, I am not clickbaiting you). Leah was one of my favorite characters in the book and I am so glad we're getting to see her again and I am beyond excited for this book. And the cover is super cool!
5. Little Broken Things 

by

 Nicole Baart
Why I added it: As per usual, my TBR is sponsored by Janel @ Keeper of Pages. Janel said this is "an exploration of motherhood, how a family breaks and attempts to put itself back together" (that's a direct quote for y'all) and honestly if you asked me what I wanted to read about all time it's that. Oh and the blurb says it's for fans of Big Little Lies so lots of good stuff.
That's it for this week's TBR additions! As always, I'd love to hear about new books you've discovered and added to your TBRs!
xxx
Come hang out with me:
Follow me on Bloglovin' | Goodreads |Facebook| Tumblr| Twitter | Instagram
*Above used Book Depository links are affiliate links which means I get a small commission if you buy a book through my link, which helps me out a lot!