Happy New Year!
As I've mentioned in my Year Review post, this year can be summed up in one word – meh. A pretty uninspiring year, reading wise, and it was hard to come up with a list for this year. I have to say that some of these were 4 star reads and yet they lingered with me and upon reflection, they were amazing reads. Also, there's 3 (THREE) YA books on this list, which never happens for me. Just goes to show how great YA is doing right now. SO without further ado, here's my best of 2017 list! These are in order, from least favorite to most favorite.
Honorable Mention
Mistborn: The Secret History by Brandon Sanderson
I finally read The Secret History at the very end of the year, and it completely BLEW MY MIND. If you're a Mistborn fan, you're going to want to read this ASAP. The novella is so so good, and very Cosmere, so there's a couple of easter eggs hidden in there and it's just such a well thought out book that happens during the original trilogy. You have to read it. Since it's a novella I don't think it warrants a place on the list, but nevertheless one of the best reading experiences of the year.
10. Born a Crime by Trevor Noah
This is one of the three 4 star reads on this list, but nevertheless, an amazing book. This is a book I thought about a lot in this year. I found myself recommending it fairly often and it's a book I did not expect to like so much. Trevor Noah had a very interesting childhood and he has such a genuine way of conveying it. He is smart and funny and doesn't dramatize anything, while also managing to completely engross you in his writing. Highly recommend this one. And his relationship with his mother is just wonderful. You can read more of my thoughts here.
9. Lincoln in the Bardo by George Saunders
Another 4 star read, but a brilliant one at that. And again, I find myself constantly recommending this and thinking about it. It's experimental writing at its best and I am so shocked at how well Saunders managed to do this. He relies on historical writings and builds upon that a wonderful, rich tale of the ghost of Lincoln's late son and all the other ghosts he encounters on the cemetery. It sounds strange, and it is, but it's such a genius way of telling a story and I am constantly baffled again by how unique this book is. It's unlike anything you'll ever read. Highly recommend again, as with any book on this list. More of my thoughts can be found here.
8. Stay With Me by Ayobami Adebayo
This one I am not sure why I gave 4 stars when it's absolutely brilliant. It's set in Nigeria and it follows a couple and their relationship and it's so fantastic at exactly that. Yejide is one of the best written female characters I ever read. I absolutely adored her. I love how the author explored motherhood and how feelings tied to motherhood are connected with feeling like a woman. It explores so many amazing themes and topics, and it also has some mild political themes of Nigeria in that time period, which I really enjoyed. But at its core is a story about this woman and her husband and their marriage and it's so wonderful and compelling. You have to pick this one up! More of my thoughts here.
7. Grief Is the Thing With Feathers by Max Porter
A book I read at the beginning of the year and one I loved so immensely. It's a story about grief and hope and struggling through loss, but ultimately prevailing. It deals with a family who has to deal with the loss of the mother, and we follow a father who is obsessed with Ted Hughes' The Crow as he has to deal with the loss of his wife and also try to help his children do the same. The way Porter portrays grief is so brilliant. The Crow (which is a manifestation of their grief) becomes a physical thing. He's a trickster and he is sometimes cruel, sometimes funny and sometimes consoling. It's such a smart way of portraying how loss affects people and I was constantly surprised by how much I was enjoying this book. It's written in verse and the language is lush and beautiful and I loved it. I haven't read Ted Hughes, but that did not lessen the experience for me. This is something that you should pick up ASAP. More of my thoughts can be found here.
6. Simon vs the Homo Sapiens Agenda by Becky Albertalli
This is why you should wait with your best of lists. I read this near the very end of the year and I loved it so much. This is the ultimate gay rom com and it's spectacular. I loved all of the characters in this, especially Simon and Leah. They drove the story for me and made everything in the book work so well. Most of all, I loved the feeling this book gave me. It's so heartwarming and it makes you feel super good after you finish. It's such a hopeful and lighthearted book, and yet so meaningful. I read it in two sittings, completely engrossed with the story and completely in it. I can't wait for the movie and the next book in the series and I am now officially trash™ for all things Simon. And you should be too. You can read more of the gushing here.
5. The Hate U Give by Angie Thomas
I think this is going to be on everyone's list and rightfully so. Angie Thomas did something remarkable with this book, and I am so glad this book had such success, because it totally deserves it. The way the author tackles important themes, but doesn't make them righteous or overbearing is amazing. She just says it like it is. More importantly, she shows us how these thing affect a young girl and her community, how they deal with all of this mess. Starr is a wonderful character who grows so much and who is angry but also happy and very smart. She is a wonderful, compelling main character which I adored. My favorite part of the book is the family dynamics. Starr has AMAZING parents, strong figures which she can rely upon. She has so much support, a community of loving people around her and I loved reading about that. This is THE YA of the year as it should be. More of my thoughts can be found here.
4. The Gentleman's Guide to Vice and Virtue by Mackenzi Lee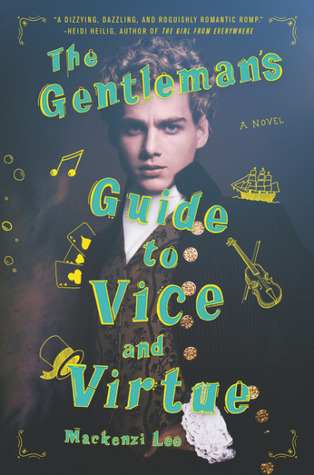 If I had to use one word to describe this book it would be – FUN. I had so much fun reading this. But this isn't the sort of flimsy, breezy fun. This book handles a lot of serious and important topics and still manages to make the book so darn fun. There's alchemy, adventure, love, even a brief mention of pirates! So much stuff is going on and all of it is superb. Monty is probably my favorite character I read about this year. You fall in love with him from the first sentence and you never stop loving him. He's really flawed, but still so compelling. He grows so much and he is such a painfully amazing character. And he's bisexual. And Percy is amazing! The romance is spectacular. And there's mental health rep explored within the time period context! So many things to adore in this one. Pick it up asap. If you want to know more, you can do so here.
3. The Hating Game by Sally Thorne
You know, it's a shocker that a Romance ended up so high on this list, but here we are. I ADORED THIS. I read it three times this year. It's the best written romance I ever read. There's so much tension in here and it's written so freaking good. The slow burn is so amazingly done. And this features my favorite trope of all time – hate to love. This is the hill I'll die on. Give me hate to love and I'll have fun. But this book goes above and beyond. It really took me by surprise, just because Romance books never truly grab me and I never love them as much as other books. I loved both the leads (which again) rarely happens. I found both Josh and Lucy to be characters I can root for, and I was so obsessed with this book. You can read more of my thoughts on it here.
2. Big Little Lies by Liane Moriarty
It was only natural that this was in the top 2 of the year. Strong female friendships, small town drama and really compelling female characters. Those are all my buzz words and this book ticks them all off. The suspense this book builds is like no other and I was glued to the book until the very end. I found all three of the main characters to be fantastic, and I can't pinpoint which of their storylines I preferred. Even the side characters were interesting and I think Moriarty managed to capture the suburbia really well. The drama that unfolds, all the lies and secrets and ties between these people in this suburban town are so intriguing and gripping. I couldn't wait to know what happens next. This book really took me by surprise and I was so shocked to see how well developed and smart these characters were and how good Moriarty was at portraying them. I loved every second of this book, and more reasons why can be found here.
And the winner is…
1. Beartown by Fredrik Backman
This probably comes as no surprise to you, since I haven't shut up about this one since I read it. But it was that good. It became one of my favorite books of all time. This book is the perfect book for me. It deals with heavier topics, it's a small town drama, and it is very character driven. All the characters in this are SO WONDERFUL. The anger, the disappointment, the fear, the friendships, the love – it's all handled so well. Every character has a distinct personality, but they all work really well together as a whole. I am mostly surprised by the fact that Backman managed to give such wonderful and realistic voices to women in this novel, and how he managed to handle the topic of rape so wonderfully. There's so many different things that were explored here – consent, power dynamics, slut shaming, victim blaming – and it's all done so well. I am constantly thinking about this book and how good it was. There was something about it that resonated with me deeply, and I am so grateful I decided to finally pick it up. You have to do same. If you want to hear more of my thoughts, you can do so here.
And that's it for this year's favorites! All of these are spectacular and you should pick them up ASAP. I would love to know what were your favorites of the year. Let me know in the comments!
xxx
Come hang out with me:
Follow me on Bloglovin' | Goodreads |Facebook| Tumblr| Twitter | Instagram
*Above used Book Depository links are affiliate links which means I get a small commission if you buy a book through my link, which helps me out a lot!
*Vectors graphics designed by Freepik