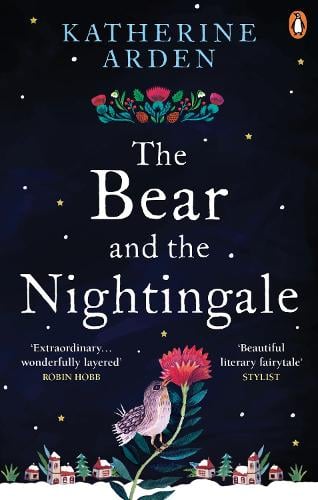 "Wild birds die in cages." 
This book has been going around for a while. The Bear and the Nightingale is the first book in The Winternight Trilogy by Katherine Arden. It's set in Russia, during the middle ages, and it follows a girl named Vasya, as her father remarries and brings a new wife to the house, one that has a completely different way of handling the house than they are used to. I decided that it was time I finally picked this up, and I have to say I really loved it. My rating isn't really reflective of that, but I'll try to explain it.
I read this one as part of the Book Bum Club, which is run by the lovely Zuky over @ Book Bum. We have a different theme every month and this month's theme was Beautiful Book Covers and this book is pretty in every possible edition! You should join us there!
This book is embedded in Russian folk tales. The main focus of the story is the battle between the winter king Morozco and his brother The Bear. The fairytale aspects and creatures were so well done. The book had this whimsy to it and I loved meeting all the creatures or spirits that Vasya encounters throughout the book. Moreover, this feels really authentic. The Eastern Europe folktales and general atmosphere felt so real and genuine. It truly felt like the author did her job and researched and was well acquainted with the story she was trying to write. I really appreciated that. And it made the book that much better.
I really enjoyed reading a book immersed in eastern as opposed to western culture. Russian fairytales are darker, they have a completely different feel to them, and explore different themes in different ways. I really enjoyed how the main conflict here, the one between Morozco and The Bear is actually a battle between order and chaos, and how they sort of work together and tear each other apart. There's also an exploration of old gods vs. Christianity, or the old traditions vs. the new, and I think that was very reflective of the time period and I love how the author used that to make this plot work. Truly remarkable. This novel is very smart and well crafted and it shows.
I think Vasya was a fantastic main character. Again, the time period was perfect to set up a character like Vasya. She is wild and unruly, she has the sight (or magic), she doesn't want to be contained by societal standards. She is a really strong character who has a lot of heart and I really enjoyed reading the book because of her. There's also an exploration of the dynamic between her and other characters, like Morozco or Konstantin that is so well done. Konstantin and Morozco are two characters who are very compelling as well. They both have this sort of morally grey characterization that was really well written and intriguing and I really enjoyed that.
The writing is very beautiful and lyrical, but more importantly, this book is written in a way that creates atmosphere. There's something about the writing that completely reflects the folklore which is at the core of the story. It perfectly translates the harsh winter of Russia, Vasya's spirit, the time period. The writing is done in a way that makes the story possible and I really loved that.
I gave this book 3.5 stars. And here's why. Like I said, I really enjoyed this. However, it took me a whole month to finish this. The thing is – the atmosphere is so heavy. I didn't have a lot of time to read, and this book requires you to be completely in it. Whenever I would stop reading, I would be immediately taken out of the story and then it would take me ages to get back into it. And I did not enjoy it until I was in the story. Once I did that, I had no issues, but since it did take ages, I was left feeling a bit frustrated. It may be due to the way I read this, but it did affect my enjoyment of the book.
I absolutely think that this book was masterfully done. I think it's smart and atmospheric and it's just wonderful. I would only recommend reading it in big chunks, so you can be completely engrossed in the story. I wholeheartedly recommend this one.
Final rating: 3.5 stars
And that's the review! Hope you enjoyed this, and let me know if you have read this one and how you liked it! Would love to know!
xxx
Come hang out with me:
Follow me on Bloglovin' | Goodreads |Facebook| Tumblr| Twitter | Instagram
*Above used Book Depository links are affiliate links which means I get a small commission if you buy a book through my link, which helps me out a lot!
*Vectors graphics designed by Freepik