Let's talk about some easy bookish topics.
Chit Chats are discussions I do on some easier, more fun bookish topics. Today we're talking about reading books at the right time. I always thought that reading a book at the right time in your life is crucial to you loving it. So let's chat on it, shall we?
I don't know about you, I am a definite mood reader. I never make TBRs, I never plan ahead, which means I just pick up what feels right at the time. And I find that my mood can definitely swing my enjoyment of the book one way or the other. The text is the same, but I think that regardless of it, the time in our lives when we read the book can affect how we feel about said text. Why is that?
I think books happen somewhere between the author and the reader. Sure the text is there, but the way you read and interpret the book ultimately decides what the book is for you as a reader. If you're experiencing a certain emotion or there's something going on in your life, a book that explores those things might resonate with you in a way that it would not otherwise. Or you can pick up something when you're not in the right mood and dislike a book that you might have liked in different circumstances.
There's always the factor of time. Some books are right for us in our teens, some in our twenties, some in our fifties. There are books I liked when I was younger that I can't read anymore, and there are books I tried to read when I was younger but couldn't love them until I was older. We change, we grow, we learn, and so do are reading tastes. Just as there are books for every reader, there are also books for each reader's period of life. It's a fascinating thing to me. That I could have adored a book I disliked, or could have disliked a book I adored.
There are of course limitations to this. I think there are certain books that we would have hated or loved no matter when and how we read them. Some books are just bad (I am looking at you Impulse) some are just always good. I think most of these in between books that have had the potential to be worse or better are those 3 star reads. I can totally get how I could have hated a 3 star read at a different point in my life, or how I could have adored it.
Windwitch by Susan Dennard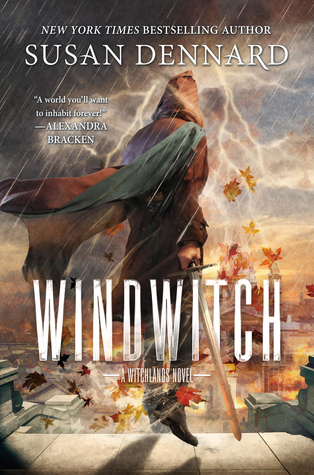 I read Windwitch when I was miserable. I had a lot of stuff going on, I was constantly cramming and studying, I didn't have enough time to read, so I read for 10 minutes at a time. I was just not feeling great. And I did not fully enjoy Windwitch. It was a 3 star read, but ultimately a disappointment when compared to Truthwitch. I am however rereading it now, and enjoying it so much more. I love what it brings to the world and I appreciate the book a lot more this time around.
Along for the Ride by Sarah Dessen
I ADORE this book. So much. I think I read it when I was the same age of the protagonist, during the summer and I related to the main character A LOT. However, this is just your regular contemporary. My sister always says that this book is painfully average, and I think I would feel the same way if I had read it now as opposed to then. But given the circumstances, this is one of my favorite books of all time and one of the best contemporaries I ever read.
The Bear and the Nightingale by Katherine Arden
The most recent example is The Bear and the Nightingale. I loved the concept of this book, but I had trouble getting into it fully. I explain more in my review if you're interested, but I firmly believe I would have liked this more if I have read it at a different time. If I could have finished this in couple of sittings, instead of just reading a few pages every day, I think this could have easily been a 5 star read. But it wasn't.
So do you have any thoughts on the topic? Do you think there's a right time to read a book? What are some books that came to you at a right or wrong time? I would love to know!
xxx
Come hang out with me:
Follow me on Bloglovin' | Goodreads |Facebook| Tumblr| Twitter | Instagram
*Above used Book Depository links are affiliate links which means I get a small commission if you buy a book through my link, which helps me out a lot!
*Vectors graphics designed by Freepik