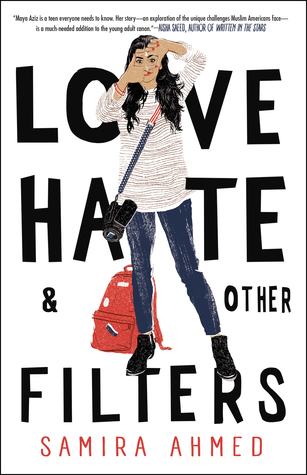 "These terrorists are the antithesis of Islam. They're not Muslim. Violence has no place in religion, and the terrorists are responsible for their own crimes, not the religion and not us." 
Love, Hate and Other Filters was one of the biggest releases of the year. I kept seeing it everywhere and I thought I'd request an ARC. I got approved for it (thanks to Netgalley and the publisher). Naturally, time got away from me, so I managed to pick it up just a few days ago. And I have to say, I did not like this. Let's talk about why.
I will preface this by saying that I cannot speak on the representation here, because I am neither Muslim nor Indian nor American for that matter. That's why I'll link the amazing review from Ilsa @ A Whisper of Ink (I love her blog by the way, it's one of my faves). You should read her review for more info on how the Muslim rep was handled.
I think this book suffers from poor pacing and structure. I felt like the book had a very clear separation between the part before the terrorist attack and the part after it. And not in the good way. To me the first part was so vapid and superficial, with romance plots I could not stand and did not feel a single thing for. I also felt that we were pushed into Maya's romantic troubles, without really ever focusing on her character. That's why I felt she, and every other character in this novel were incredibly underdeveloped. For me personally, a character cannot be defined by two characteristics – that they love making movies and that they blush a lot. Those are the two things I know about Maya. And when the main character is underdeveloped, you can imagine what the side characters look like. I think my main grievance here is that I just could not root for these characters because they were two dimensional. Mostly because the first 60 percent of the book is Maya's romantic troubles with two guys. Let's dive into that.
You know that I don't mind romance. I love it. I am a huge fan. But this was so insta lovey and superficial. On one hand, we had Kareem, which Maya was sort infatuated with. Their relationship developed so quickly and died so quickly that I could not even blink and it was already done. Which was fine, because I did not really like him with her or on his own, but I fail to see the point of that. I really don't think that that whole plot line brought anything to the story.
On the other hand, there's Phil. I think he is also a character that was so cliche and just not well developed. He seemed like the prototype of a jock with bigger plans and a bigger heart hidden behind his golden boy status and I was just rolling my eyes. It's a trope you see in a ton of books. I can get on board with that sometimes. When the characterization was done right. It wasn't done right here. I could not feel for their romance because:
a) it was so cliche
b) I just don't feel for them as individuals so how can I root for the romance.
Since the romance was a huge part of the book (HUGE, like that's the book) and I did not like it, the whole book just fell flat for me.
I think we got a really good sense of Maya's culture. There's a lot of mention of Indian food and customs and I think we really got a good sense of how the culture looks like and what it entails. I don't think that was the same with religion. Of course, Maya's parents and her family aren't that religious, but still. I feel like this is marketed as something with Muslim rep, and I don't think there's a lot of that, which is why people might be let down if they come to the book expecting that.
I think that the other part of the book where the attack happens and Maya goes through some awful stuff because of that was a lot better. Like I said, I felt like the book was really vapid and superficial in the first part, and the second part offered a lot more depth. I think the way the author discussed islamophobia was spot on. I think it was very reflective of America and how they handle these issues there and I really appreciated this part of the book. I think it's really important and I am so glad that someone decided to deal with it in a book, especially a book that is for younger audiences.
I personally did not enjoy this. The characters and the romance just did not work for me. I am however really glad that the author handled some really important issues, but in the end that wasn't enough for me to enjoy the book.
Final verdict: 2 stars
Have you read this one or maybe plan  to? What were your thoughts on it? I would love to hear from you!
xxx
Come hang out with me:
Follow me on Bloglovin' | Goodreads |Facebook| Tumblr| Twitter | Instagram
*Above used Book Depository links are affiliate links which means I get a small commission if you buy a book through my link, which helps me out a lot!
*Vectors graphics designed by Freepik