The Book Swap Series is a series of posts done in collaboration with my favorite bloggers! We each pick 5 books off each other's shelf, tell each other what we like about those books and then we recommend each other one of those 5 that we think the other person would enjoy the most! And then we share that with all of you! I'll share the other person's picks from my shelf here, and then they'll post mine on their blogs, so you should definitely check that once you're finished with this post. I imagined this as a sort of conversation between the two of us, so you'll see their thoughts and then my comments on that!
Zuky is one of the first people I started following on here, and I am absolutely in love with her blog. If you're looking for a clean design, concise and informative reviews and great thriller/crime/mystery recs, Zuky's your girl! Moreover, she is just a lovely person and always super nice. All of her links are listed below so please, please go follow her EVERYWHERE (she does unboxings on her insta stories which I always LOVE watching). Oh and you can check out her book club on Goodreads, which is a lot of fun and in which I participate as well!
1. The Scandal by Fredrik Backman
Zuky said:
I'm really interested in this one because it's got such a high overall rating on Goodreads! I love the small town mystery trend that's going on in books at the moment, and this one seems to fit my interests in that sense. I am a little nervous about this one though, as friends have said it disappointed them by being so much about sport!
My comment:
This was my fave book of last year and so naturally, I think it's fantastic. However, there's no mystery there really, but there's a lot of that small town dynamic exploration. Also, this isn't about the sport that much, so I don't think you'd be overwhelmed by that. I no nothing about hockey and I am not a big sports person and had no trouble with that aspect of the book.
2. The Neverending Story by Michael Ende
Zuky said:
The movie for this book traumatised me as a child, I still can't think about the horse that gives up in the Swamps of Sadness without getting emotional. I've never read YA/Children's as an adult because I can't get over how young they feel (personal preference, no offense for YA lovers meant)  so I think it'd be interesting to see if I could read this one all the way through as it would be nostalgic for me.
My comment: I love that movie! That scene is super sad and traumatic, I can't think about it either without getting all sad. I love Michael Ende's stories so much, especially when I was younger. I do think that this is written for a younger audience so I am not sure it would really be your cup of tea. It is however super magical and nostalgic, so if you're ever looking for that, this is your book.
3. Room by Emma Donoghue
Zuky said:
I feel like the last person on Earth who hasn't read this book, or seen the movie. I haven't even had any spoilers for the story. I've been interested in this one for ages and my sister recommended it for me. I also loved The Wonder by the same author, so I'm thinking I'd get on with this one too.
My comment:
To be quite frank, I did not enjoy this one so much. This is told from the perspective of a child, and while the author nailed that, it got very tiring and repetitive and I was quickly over it and wanted to switch to "regular" narration. However, if you liked her other book, I think this might suit you, especially since it has a bit of the mystery/thriller element.
4. Sharp Objects by Gillian Flynn
Zuky said:
After reading Gone Girl back in 2015, I've wanted to read other of Flynn's work, however, I haven't! I thought it was only sensible to include a classic mystery thriller novel on this list, as they're my favourite kinds of books! My sister said she preferred this one to Gone Girl, so that really intrigues me!
My comment: I read all of Gillian Flynn's books, and this is my second favorite (after Gone Girl). It's got a great mystery and suspense to it, and not to mention the unlikeable female characters, so I think you would love this one, especially if you enjoyed Gone Girl. Gillian Flynn has a specific style to her writing and it definitely reflects in this book as well.
5. The Bear and the Nightingale by Katherine Arden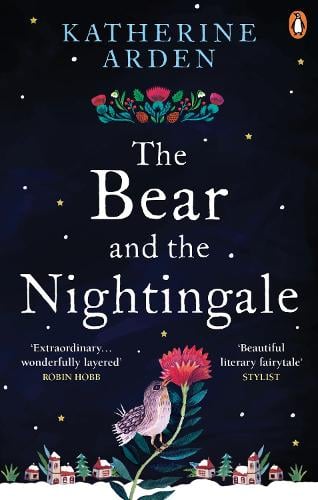 Zuky said:
I bought this novel because I absolutely loved the cover, but I bought it before I really knew what it was about. I have never read a fairytale as an adult and I love magical books, so this one interests me for those reasons, but I am worried about the fact it's been classed as YA on Goodreads… as I said before, I've never read YA as an adult!
My comment:
That cover really is gorgeous, so I completely get that. This one is really heavy on the atmosphere and it's super fairytale-esque. And it's a darker kind of fairytale, since it is inspired by Russian folklore and Eastern fairytales. It is however rather slow since it has such a heavy atmosphere. Don't be worried about the YA classification. It really has none of that YA feel to it, so I think you'd be fine with it actually.
You made it super hard to choose! I actually think that you would like most of these, hence I added those comments, just to give you a sense of how I feel those books would suit you. While I think
Sharp Objects
is a pretty safe recommendation for you (I am sure you'll enjoy it), I have to go with
 The Scandal (Beartown) by Fredrik Backman
. First of all, I think the small town vibe would really appeal to you. This doesn't have a mystery in it, but it explores a really dark topic, so I think that your thriller loving self would enjoy that. Moreover, I think it's a story that is universally liked, and that speaks to everyone. It's character driven and it discusses so many important topics that I think could resonate with everyone. I hope you get to it and I hope you LOVE it.
I had so much fun with this, and I hope all of you find it fun as well! Please check out my picks on Zuky's post (she chose a great book for me!) and let me know how you like this new series we started! I absolutely love it so far, and I hope Zuky and all of you reading loved it and had fun as well!
xxx
Come hang out with me:
Follow me on Bloglovin' | Goodreads |Facebook| Tumblr| Twitter | Instagram
*Above used Book Depository links are affiliate links which means I get a small commission if you buy a book through my link, which helps me out a lot!
*Vectors graphics designed by Freepik