Reviews 2.0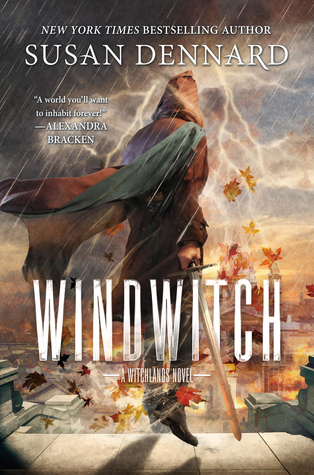 You may or may not know, but I do an occasional revisit of my old reviews. This is mainly because sometimes my opinions change and I like to update on my thoughts and opinions on a certain book. You can see the ones I did previously HERE.
To prepare for the new release in The Witchlands series, I reread the first two books. I rereviewed Truthwitch (you can check out that HERE) and now I am gonna do the same for Windwitch. This was a really interesting reading experience, since I initally did not like Windwitch all that much (check the original review HERE), and so I really enjoyed thinking about the difference in my reading experience between the first and second reading. So here's my new and improved review of Windwitch by Susan Dennard!
Stuff I Still Feel the Same About
Originally, this is what I said in my review:
 I found the book really stalled and dragged, and most of the story lines bored me to no end. All of our characters are separated throughout this novel, so we see all of them in a different setting and dealing with different problems. Maybe that's what made the book not great for me: the lack of main character interactions. I loved Merik and Safi's dynamic and especially Iseult and Safi's dynamic in Truthwitch. And we saw NOTHING of that in the continuation. Obviously, the plot did not allow it, but still, I really missed those interactions.

…Safi's story bored me incredibly and I dislike all of the new side characters that were introduced in her part of the story. Merik's story line was more interesting to me, because I love him as a character, but it was so slow and so much of the same thing over and over again that I was annoyed by it as well.
This remains true upon the second reading. The book led all of our main characters away from each other, which took away from the interactions we saw in the first book. I still feel that some of the POVs kind of bored me, and made the book drag at times. I personally did not feel invested in Safi's storyline at all, and I think that's what made the book somewhat boring to me the first time. I still think that that's the least interesting POV in the whole book, and it does dampen my overall enjoyment of the novel. I do also think that Merik's storyline is a bit repetitive and it is slow and tends to drag. I will say that just because we didn't get anything of those character dynamics, doesn't mean that the characters didn't grow and change. That I missed upon first reading. I really like Merik's character arc and how he is being handled, so yeah. And that goes for pretty much all of the characters.
Also:
 There was a lot of ground work for the next books in the series, and some fun stuff happened by the end.
I want to expand on this one. This book does a lot of ground work for the next books in the series. There's so much of things going on that you know will affect the course of the story and there's a lot of set up. This is a great in between novel and it does what a second book in the series should do. And yeah, by the end, there was a lot of fun stuff going on. Which is great.
And finally:
For example, Iseult and Aeduan. I LIVED for their interactions. They are my absolute favorites in the book and I was there for every second of their banter and their growing bond. I also really like the addition of Vivia's character. She was really awesome and made the story so much better.
This remains true. I think that Iseult and Aeduan made this book for me, but I think that's how it's gonna be with all of the books in the series. I love both of their characters, but I also love them together, I love their dynamic and I really like the way their relationship is developing. I also ADORED Vivia this time around. She is SUCH a fantastic, well rounded, flawed, but really real and wonderful character. She's great and I definitely liked her even more upon rereading.
Stuff I Changed My Mind On
I also said:
Next, we did not see a lot of exploration on the witchery aspects. That was my favorite part about the first book, the magic system, and I was looking forward to seeing more on it in this book. But there was little to no witchery explanation in this book. The same goes for the world building. It just wasn't used enough. And there was room for it. This was my main issue with the first one, and I excused it by saying that there will be more world building in the second book, but there wasn't.
I have no idea where this came from, but it's wrong. This book definitely expanded on the world and it gave a lot more background on it, plus it explained a lot of stuff about the things that happened in the previous book. And the magic system did get expanded on! I was wrong. It was just done in a different way and to a different part of it, and I really enjoyed that. A different part of the magic system was developed, and I really liked the direction in which Susan was going with void magic, which is the darker kind of magic.
To sum it up:
I am just not to keen on this particular addition to the series.
This is entirely wrong. This book was necessary to the series and it did some amazing stuff. Yes, it's slower, but it really develops the characters well and it really expands on the scope of the series. So basically I was all wrong about it and I am really glad I reread it.
Final verdict: I initially gave this book a 3 star rating. I don't really believe in changing my ratings for books I love, just because I am now too invested to give a objective rating. However, I can say that, this time around, this was a really solid 4 star read. I don't think I immersed myself while reading it the first time and I just did not dedicate myself to it, so I am incredibly glad I reread this one.
So do you ever go back to your reviews and cringe while looking at them? What's one book that you changed your mind on? And do you love The Witchlands series as much as I do? Let me know!
xxx
Come hang out with me:
Follow me on Bloglovin' | Goodreads |Facebook| Tumblr| Twitter | Instagram
*Above used Book Depository links are affiliate links which means I get a small commission if you buy a book through my link, which helps me out a lot!
*Vectors graphics designed by Freepik