The Book Swap Series is a series of posts done in collaboration with my favorite bloggers! We each pick 5 books off each other's shelf, tell each other what we like about those books and then we recommend each other one of those 5 that we think the other person would enjoy the most! And then we share that with all of you! I'll share the other person's picks from my shelf here, and then they'll post mine on their blogs, so you should definitely check that once you're finished with this post. I imagined this as a sort of conversation between the two of us, so you'll see their thoughts and then my comments on that! You can check out all the previous posts in the series HERE.
This month on Book Swap: Caro over @ Book Chesire Cat.
Caro is one of the bloggers that I bounded with over our mutual love for a book – and that's Truthwitch. I genuinely think her blog is fantastic, and I love her Alice in Wonderland design. It makes the whole blog look super cheerful. I think her blog is one a lot of different readers can enjoy and I think she is just in general a really lovely person. All of her links are listed below so please, please go follow her EVERYWHERE.
1. Saga by Brian K. Vaughn and Fiona Staples 
Caro said: I haven't really read any graphic novels so far, but I really want to get into them sometime in the future! Since I want to branch out with my reading, I started looking for recommendations and Saga is definitely is a graphic novel that everyone seems to absolutely love, which sounds like a good book to start with! As far as I know Saga is a sci-fi book about two soldiers on opposite sides of the war falling in love and trying to escape with a baby. I have high hopes that I'll like this, because it sounds really interesting and I'm in the mood for some sci-fi!
My comment: I definitely do think that Saga is a great gateway into graphic novels, a great series to get you into the genre. You're right about the premise, that is basically the gist of it. However, the series kind of lost me a long the way. It's pretty long and there's so much going on at all times, that I always had to reread the previous volumes just to get back into the book. So I don't really know in which direction the series took off, but I would recommend the first few volumes at least.
2. Amy & Roger's Epic Detour by Morgan Matson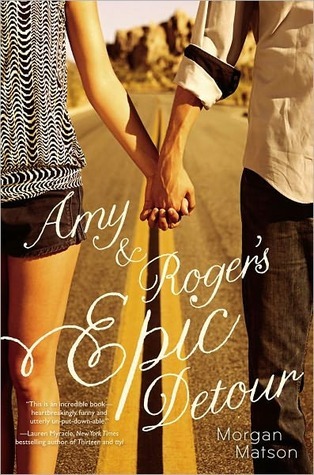 Caro said: I'm going to confess that I have never read a Morgan Matson book, because YA contemporary is not my go to genre. However, I really want to see why everyone ends up loving her books. Amy & Roger's Epic Detour is definitely a book of hers that got my interest, it sounds like the perfect road trip book to read in summer! Therefore, I intend to pick it up when I'm in the mood for a good contemporary!
My comment: This was a really cute contemporary read. It's a nice, fluffy, summer romance and if that's what your looking for – this book is a great choice. I do think the relationship developed a bit fast and I think there are better YA Contemporaries out there, but if you're looking for a quick, easy read, this might be it.
3. The Knife of Never Letting Go by Patrick Ness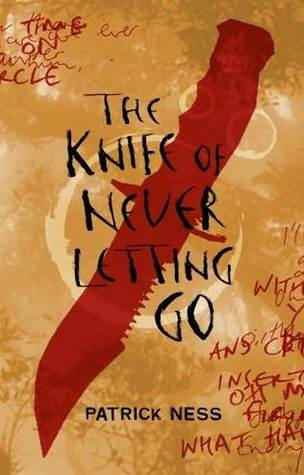 Caro said: I've been wanting to pick up this book since last year when I luckily snatched up a copy at a used book store, especially as I've not read a lot by Patrick Ness! I was immediately intrigued by the first sentence and the premise. Everyone being able to hear each other's thoughts all the time? That sounds truly horrific and makes me really want to explore this world and find out how this idea is going to be executed. Gladly there are two more books for me to read, if I end up liking this one!
My comment: This one is absolutely fantastic. It's a series that's really unique and handles stuff really differently. I especially love how Ness deals with villains and how they are so multilayered. It's a book that I always recommend gladly, and I am sure you would enjoy this one. It's a really well written and well thought out series.
4. The Gentleman's Guide to Vice and Virtue by Mackenzi Lee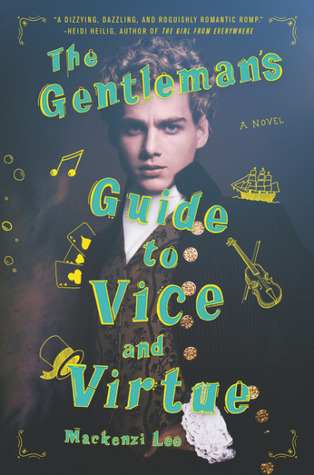 Caro said: I have been wanting to read this book ever since it was hyped up last year. Now that I got my copy for Christmas, I'm even more excited. Generally I love reading books that are a bit historical fiction and this one has elements of the genre. However, I also heard that it's super funny and it feels like The Gentleman's Guide could become a new favorite as well as a book that truly makes me happy. I hope to love the characters and I'm excited to see their journey through Europe, the concept is just really cool!
My comment: This was one of my favorite books of last year and I think it's spectacular. The characters are to die for, their interactions are amazing. And Monty is one of my favorite characters in YA. He is so funny and charming and I think the book is 10 times better because of him. And the plot is really fun and engaging. I think you would love this one.
5. The Lies of Locke Lamora by Scott Lynch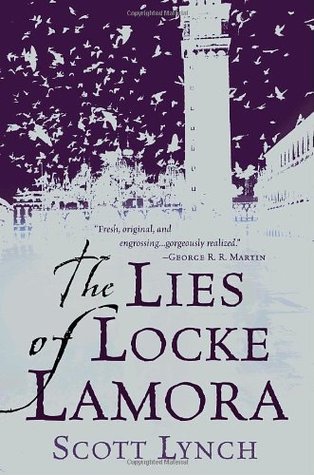 Caro said: The Lies of Locke Lamora is an adult fantasy book that I have been hearing nothing but great things about and since I want to read more adults books, this quickly ended up on my TBR! I feel like this is a book that I will read for the Tome Topple Readathon (dedicated to reading books over 500 pages), as it's pretty long. Overall, I'm really excited to read about the characters and explore the world! I also heard that this book contains lots of sass and morally grey characters? That would be amazing as well!
My comment: This is a fantastic book to get you into Adult Fantasy. While it's long and dense (like all of them), this one is a page turner and I think it's brilliant. The characters are amazing, and you're right, they are morally grey, since they are a band of thieves on a mission that goes wrong. Locke Lamora is one of the smartest and wittiest characters I ever read about, and this setting and story are absolutely fantastic. I am sure you'll love this.
The moment of truth! This was super hard to choose. A lot of my favorites there. I have to say, I was really torn between recommending you The Gentleman's Guide and The Lies of Locke Lamora. I do think that The Gentleman's Guide is a safer option for you, but I am gonna recommend The Lies of Locke Lamora to you. It's a great pick for Tome Topple, and it's a great pick to get you into Adult Fantasy. And I think you're going to love Adult Fantasy. Plus, The Lies of Locke Lamora is set in the City of Camorr, which has a real Venaza City from Truthwitch vibe to it. I think you are going to love this book, and I can't wait to hear your thoughts on it.
I had so much fun with this, and I hope all of you find it fun as well! Please check out my picks on Caro's post (link to come) and let me know how you're liking The Book Swap series. I am having too much fun and I hope the lovely people who are participating are having fun as well!
xxx
Come hang out with me:
Follow me on Bloglovin' | Goodreads |Facebook| Tumblr| Twitter | Instagram
*Above used Book Depository links are affiliate links which means I get a small commission if you buy a book through my link, which helps me out a lot!
*Vectors graphics designed by Freepik