A (sometimes) weekly feature in which I share new books I added to my TBR.
I have not finished a book since 19th of February, so I am overcompensating by adding a bunch of books to my TBR. I WANT to read so many books, but I just don't have the time to read. On the plus side, I have been trying out audiobooks on my commute to school, and while it's still awkward and weird, it looks like I'll actually manage to finish a book because of it, so that's great. That was my whiny update and now we can talk about new, exciting books I discovered.
1. Text Me When You Get Home: The Evolution and Triumph of Modern Female Friendship 

by

 Kayleen Schaefer
Why I added it: The first thing that drew me in is the title. I saw it and thought how appropriate it is: my friends and I say this to each other ALL THE TIME. Moreover, a non fiction that focuses on female friendships and offers both a personal and a sociological perspective sounds exactly like a book I would love. I can't wait to get my hands on this one.
2. MEM 

by

 Bethany C. Morrow
Why I added it: This one comes out in May, and it sounds completely amazing. It's set in an alternate version of the past, where a scientist discovered a way of extracting memories from people. Those memories exist inside "copies" of the person who had them, called The Mems. The Mems just experience that one memory over and over, until one of them manages to start creating memories of her own. THAT SOUNDS BRILLIANT. I love a good concept and this sounds like it's gonna be fantastic. Fingers crossed.
3. Motherhood 

by

 Sheila Heti
Why I added it: This is a mix between non fiction and fiction and like the title suggest it explores motherhood. It's a story that asks questions about what it means for a woman to become a mother, what a woman loses and gains by becoming a mother and it seems super original and a different take on this kind of issue. I am really interested to see how it actually pans out, because it does seem super interesting.
4. The Immortalists 

by

 Chloe Benjamin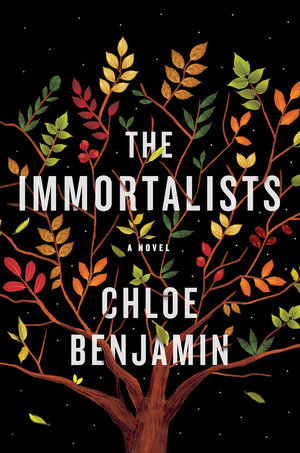 Why I added it: This was one of the big literary fiction releases that I wasn't really interested in. However, I discovered a new podcast, The Book Show, where they host a different writer each week and they talk about their new book. Chloe Benjamin was on it and the way she spoke about her novel made me want to pick it up instantly. This story follows four siblings throughout their lives, after a mystical women tells them the date they would die on. This actually sounds exactly like my cup of tea and I can't wait to read it.
5. Speak No Evil by 

by

 Uzodinma Iweala
Why I added it: I requested an e-ARC of this, got declined and then forgot about it. But I just saw it again, and I fell in love with the premise all over again. The story follows Niru, who comes from a Nigerian family, but is queer, which is unacceptable to his parents. We also follow his best friend Meredith, who is the only person he can trust. And then something happens, Niru's parents find out, and then things start spiraling. I think this is going to be an amazing book.
And those are all the new books I added to my TBR! As always, I'd love to hear about new books you've discovered and added to your TBRs!
xxx
Come hang out with me:
Follow me on Bloglovin' | Goodreads |Facebook| Tumblr| Twitter | Instagram
*Above used Book Depository links are affiliate links which means I get a small commission if you buy a book through my link, which helps me out a lot!
*Vectors graphics designed by Freepik