A (sometimes) weekly feature in which I share new books I added to my TBR.
I am still overcompensating for not reading by adding new books to my TBR. But that's hopefully good news for both you and me: me because I get some sort of boost to actually read something, and you because you hopefully discover new books!
So let's talk about some exciting new reads I discovered recently!
1. Girls Burn Brighter 

by

 Shobha Rao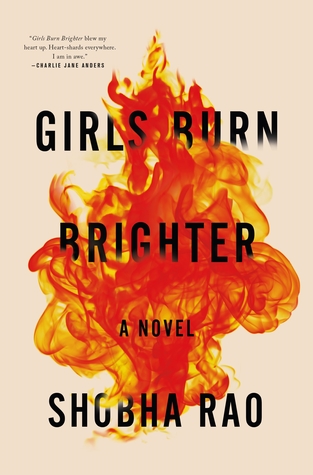 Why I added it: This is a book that's been everywhere recently, and it seems rightfully so. This story follows two girls in India who form a beautiful friendship, until something happens and one of them goes away. Her friend sets out to find her and leaves everything behind to do so. I think the story sets out in India, but I think it moves around the world and it's supposedly about a friendship surviving and prevailing through some really awful, but also (hopefull) some really amazing stuff.
2. Sorry Please Thank You: Stories by Charles Yu
Why I added it: I am sure I picked this up on some of the many podcasts I listen to, but I can't remember which one. This is a sci fi short story collection that seems incredibly funny, but also has some very Black Mirror-esque stuff to it. I love some of the stories' blurbs mentioned in the synopsis, like: company outsources grief for profit, their tagline: "Don't feel like having a bad day? Let someone else have it for you.". I am always up for trying another short story collection, and this one seems equal parts funny and smart. Really excited to get to it.
3. The Best American Science Fiction and Fantasy 2017 

by

 John Joseph Adams and Guest Editor Charles Yu 
Why I added it: These "Best American Short Story" collections come out every year, I just never knew there were genre specific ones as well. This features a lot of amazing authors and I never read specifically Sci Fi or Fantasy short stories and I think this maybe a great way to sample some of them.
4. The Eyre Affair 

by

 Jasper Fforde
Why I added it: This book sounds completely amazing and I can't believe I haven't heard of it before. This is a book that is set up on literature itself. It's set in Britain and there's time travel and all sorts of crazy stuff, including the possibility to enter a book and kill a character, thus erasing them from any version of the book. It's bonkers! A criminal is set upon killing Jane Eyre, and we follow Thursday Next, a special literary operative (who drives a Porsche) as she tries to save the beloved character of Jane Eyre. It's completely crazy but also completely brilliant and I really want to read it.
5. Stray City 

by

 Chelsey Johnson
Why I added it: The story follows an artist Andrea, who is a lesbian, after she has a really bad break up with her girlfriend and a friend betrays her. Those events lead to a really drunk night out, after which she ends up sleeping with a man and getting pregnant. We also follow her and her daughter Lucia years later, as Andrea tries to come to terms with her past and also her life in general. This just sounds like a really wonderful story that explores the families we choose and those we are born into and hopefully it's as good as it sounds.
xxx
Come hang out with me:
Follow me on Bloglovin' | Goodreads |Facebook| Tumblr| Twitter | Instagram
*Above used Book Depository links are affiliate links which means I get a small commission if you buy a book through my link, which helps me out a lot!
*Vectors graphics designed by Freepik