Let's judge some books by the cover, shall we? 
Every month, I pick some books with pretty covers and then I show the ones with best blurbs to you.
Basically, I spend a lot of time on Netgalley, and scouring the Internet for new releases, so I am gonna do that, but pick the books based on their cover. Then I'll read the blurbs and pick my favorites and then I share them with all of you!
So the basic formula of this post is pretty books meets new releases I am excited about. 
1. How To Be Safe by Tom McAllister 
Why I love the cover: I am so partial to flowers on covers. Even when they are beat up like this. I just think it looks stunning and also sad in a way, and I like when book covers make me feel.
Why I love the blurb: Because it says We Need to Talk About Kevin meets Dept. of Speculation. The first one is one of my favorite books of all time and the other has been on my TBR for some time. It's about a small town tragedy, and a teacher being accused of shooting up a school. It's basically the perfect book for me.
2. Space Opera by Catherynne M. Valente
Release Date: April 3rd
Why I love the cover: I LOVE THIS SO MUCH. I love the neon and the glitzy and kitchy 80s vibe and the fact that it's a space opera novel named space opera. It's all so FANTASTIC. Probably my favorite cover on this list.
Why I love the blurb: The Hitchhiker's Guide to the Galaxy meets Eurovision!!! Again, two of my favorite things. How amazing does that sound? It's about galaxies competing in a universe-wide music contest where the stakes are basically the fate of planet Earth. I mean, who comes up with that and I can't wait to read this and see what Valente does with this.
3. The Comedown by Rebekah Frumkin 
Release Date: April 17th
Why I love the cover: I love a good typography cover and this one is colorful at that! Plus the fact that the letters are coming down is really cool. I really enjoy it.
Why I love the blurb: This book is described as a dark comedy and I really love those. Moreover, it's about two families getting tied up together after a drug deal gone wrong, which follows them across different generations. This really does sound promising.
4. First, We Make the Beast Beautiful: A New Journey Through Anxiety by Sarah Wilson
Release Date: April 24th
Why I love the cover: I love all sea creatures, including the octopus. Plus I think this just looks stunning and calming, which feel like a contrast to anxiety so I really enjoy that. Plus I love the little pink splots all over, it's so pretty.
Why I love the blurb: As a psychologist, anxiety is interesting to me, and I really think reading a book about a woman coming to terms with her anxiety and combating it by making it something different seems so fascinating and I really want to see how she handles the topic.
5. Sky in the Deep by Adrienne Young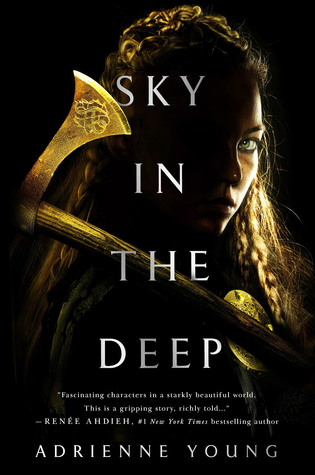 Release Date: April 24th
Why I love the cover: There's a pretty girl with an axe on it. Who doesn't like pretty girls killing people with axes? It looks promising.
Why I love the blurb: This is apparently a big YA release that I haven't heard of. It's about two clans who constantly fight and a girl who was raised to be a warrior and survive. Her life is simple (by simple, I mean brutal, but in a simple way) until she sees her brother fighting for the enemy clan – a brother who she saw die five years ago. Drama.
So that's it for this month's new releases! Do you like these covers as much as I do? Do any of the books spark your interest? Any new releases with pretty covers you'd like to share? Let me know!
xxx
Come hang out with me:
Follow me on Bloglovin' | Goodreads |Facebook| Tumblr| Twitter | Instagram
*Above used Book Depository links are affiliate links which means I get a small commission if you buy a book through my link, which helps me out a lot!
*Vectors graphics designed by Freepik