The Book Swap Series is a series of posts done in collaboration with my favorite bloggers! We each pick 5 books off each other's shelf, tell each other what we like about those books and then we recommend each other one of those 5 that we think the other person would enjoy the most! And then we share that with all of you! I'll share the other person's picks from my shelf here, and then they'll post mine on their blogs, so you should definitely check that once you're finished with this post. I imagined this as a sort of conversation between the two of us, so you'll see their thoughts and then my comments on that! You can check out all the previous posts in the series HERE.
This month on Book Swap: Elise over @ The Bookish Actress.
Elise is one of my absolute favorites, and I am so thrilled that we're doing this post together. I don't even remember how we became friends, but I am almost positive it involved a bookish playlist. Elise is someone you should go to if you want really smart, detailed and engaging content. Moreover, she is just such a wonderful person and I am constantly amazed by how eloquent she is. So yeah, if you still haven't been introduced to Elise's brand, you should correct that mistake right now. PLEASE follow her EVERYWHERE, because she is awesome and one of the most amazing people I met through blogging.
1. Foolish Hearts by Emma Mills
Elise said: This book seems like my exact niche of occasionally-hilarious-but-still-emotionally-real contemporary, and I am so here for it. I love theater [you know this] and Shakespeare [you know this] and therefore will probably like this. Also, side sapphics. 
My comment: I don't even know what to say to this. YES, YOU WILL LOVE THIS. I loved it, and I haven't loved a YA Contemporary in so long. This is exactly that – occasionally hilarious but so heartfelt and amazing. Also, the mentioned side sapphics – I LOVED THEM. Iris (the mentioned side character who loves girls, but with a really prominent is a fantastic character and I absolutely adored her, and I think you will too. And the protagonist, Claudia, is also quite likeable. And they have a beautiful friendship (yay for GOOD girl friendships!). AND THERE's a SHAKESPEARE production, Elise. I am so sure you will love this, and if you don't I will be crushed.
2. The Chaos Walking Trilogy (The Knife of Never Letting Go) by Patrick Ness
Elise said: I've wanted to read this book for so long and I just still haven't gotten to it. I love Patrick Ness and I love speculative fiction and I love weird things, so this seems like something I'd love… and I still haven't read it. Force me to!
My comment: I think this is one of the least speculative and weird things Patrick Ness did, but it's still so amazing. I love the premise of the story, but I especially love how layered his characters are. Especially the villains. The villains in this series (and I'd say there's more than one) are really well done, and I think that's an aspect that you would definitely enjoy. Also, there's lots to chew on in this, so I think it would be a good pick for you.
3. Truthwitch by Susan Dennard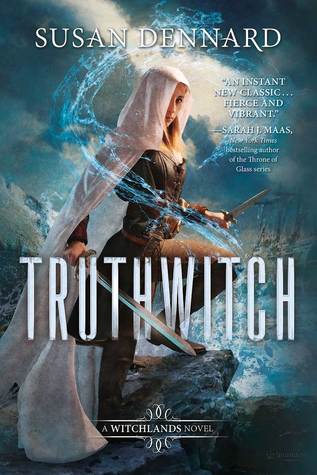 Elise said: This just feels like the kind of character-focused super-expansive plot-reveal-filled fantasy I adore. Iseult feels as if she's destined to be my next favorite lead character and I am destined to love her forever. Also, Susan Dennard seems so chill.
My comment: YOU'RE MAKING THIS SUPER HARD. Plus, how are you always so on point with your descriptions?? You amaze me. This is definitely a very character focused and super expansive fantasy series and it's JUST amazing. Iseult is one of the characters I relate to the most IN ANY BOOK I EVER READ. She is so well written and just amazing. The magic is super fun and Avatar-esque, the world building is so on point. PLUS, there's a sapphic side that has a really prominent role in the second book (and I think even more prominent in the third) which IS ONE OF MY FAVES, and I think you would love her because Vivia is awesome. And yeah, Susan Dennard? Super cool. PLEASE READ THIS, Elise.
4. All the Crooked Saints by Maggie Stiefvater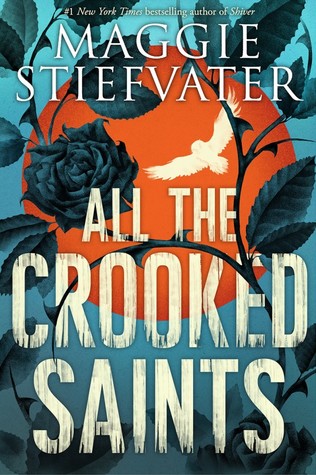 Elise said: I am still not at all confident in whether I will like this, but I do adore Maggie Stiefvater's writing.
My comment: I am also not confident you will like this. Her writing is impeccable in this one, truly. The book is so well written. And I really enjoyed it. There's symbolism here, and the characters are interesting. I am just not sure this goes as deep as TRC for example. At times, this felt very surface level and like it never went all the way. So I am iffy about this, but her writing in this is just gorgeous, so it could be worth it.
I am so torn about what to recommend. You picked two of my favorites and now I am conflicted. BUT. I am gonna go with Foolish Hearts for you (you should still read Truthwitch, please and thank you). But just Foolish Hearts has too much potential. It's centered around a play production, the characters are amazing and have amazing character arcs (all of them), sapphic sides, the amazing friendships… This book basically has your name written all over it. And I am so sure you'll love it (if you don't, I will cry). And the way you explained the book in your pick is exactly what the book is, so I am confident this is a great pick for you. I can't wait for you to read it so I can read your review and fangirl about it. Thank you so much for doing this post with me, it was so fun to write up. And I hope you had fun as well!
I had so much fun with this, and I hope all of you find it fun as well! Please check out my picks on Elise's post and let me know how you're liking The Book Swap series. I am having too much fun and I hope the lovely people who are participating are having fun as well! Oh, and don't forget to follow Elise – that's the most important thing to do.
xxx
Come hang out with me:
Follow me on Bloglovin' | Goodreads |Facebook| Tumblr| Twitter | Instagram|Pinterest
*Used Book Depository links are affiliate links which means I get a small commission if you buy a book through my link, which helps me out a lot!
*Vectors graphics designed by Freepik