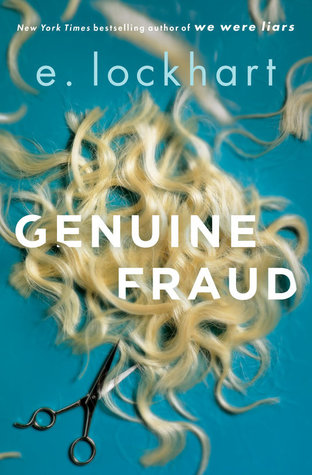 "For anyone who has been taught that good equals small and silent, here is my heart with all its ugly tangles and splendid fury."
I had an ARC of this for so long, I decided to just go ahead and read it, since it was just staring at me from my Kindle. I read We Were Liars back in the day, and had an issue with the ending. And the issue was that I did not like it. And while at that time I was a completely different reader and back then a bad ending did not spoil the book, I had more or less the same experience with Genuine Fraud. And this time, the whole reading experience was dampened.
Genuine Fraud tells the story of two friends – Jule and Imogen and their whirlwind friendship and it's ultimate downfall. We start off with Jule on the lam and we know something bad has happened – but we do not know what. The story is told in reverse chronological order, ultimately leading us to find out how Jule got herself into trouble.
I don't read a lot of mystery/thriller novels. For one thing, I get scared easily. But on a more important note – I rely too heavily on the ending. For me, a mystery novel is all about the resolution. The culminating point has to wow me, otherwise the whole book, no matter how much I enjoyed it throughout, is ruined for me. And that's what happens here.
This was a highly engaging and addicting read. I could not put it down. I wanted to keep reading no matter what. It's a page-turner and I enjoyed reading it immensely. It was a completely different book than We Were Liars, but it had that same thread that pulled the story forward. It's nicely structured and organized, which made the reading really exciting.
Jule is an unstable, unlikeable and unreliable narrator, but you can totally feel for her and I was pretty invested in the book thanks to her. She is far from perfect, the opposite really, and that is so refreshing to see in a book, especially a YA one. I really liked how unhinged she was, and the author managed to create a character that you doubted and could easily see how they were in the wrong, but to still make you root and feel for her. I really loved that.
As with We Were Liars, I could see the plot resolution from a mile away. And again, I was annoyed. I don't want to guess the ending, ever. Moreover, the resolution was obvious from a mile away. That means there was no real suspense here. Plus, this plot is real similar to The Talented Mr. Ripley plot, and parallels were made that made the suspense even more lackluster. Throughout the reading, I was hoping for a different kind of hook, for something to surprise me and make the plot exciting. But it did not happen, and that made me so much more disappointed.
I don't know if it's the rich girls and the poor outcast side of the plot, or the fact that it was similar to Mr. Ripley, or the overarching theme of obsessive friendships, but all of this feels quite worn out to me. It lacked originality and I felt like I've read all of this before.
An engaging read that ultimately leaves something to be desired. I would still recommend this – it's short and can be fun if you don't expect too much of it. Plus, Jule is a really compelling main character.
Final verdict: 3.5 stars
Have you read this one? Did you feel the same way? Have you read any other E. Lockhart novels? I'd love to know!
xxx
Come hang out with me:
Follow me on Bloglovin' | Goodreads |Facebook| Tumblr| Twitter | Instagram|Pinterest
*Used Book Depository links are affiliate links which means I get a small commission if you buy a book through my link, which helps me out a lot!
*Vectors graphics designed by Freepik