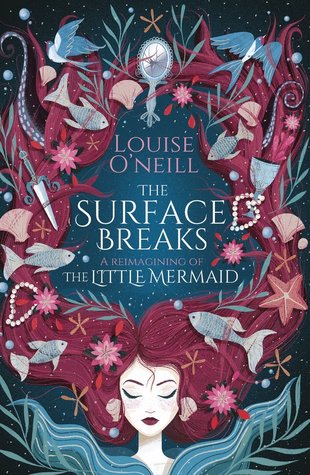 "We are women. And women are warriors, after all." 
When I first heard that there was a feminist retelling of The Little Mermaid, I got really excited. I enjoy retellings a lot, but I am kind of picky with them. I like to see elements of the original story, but I also really appreciate something fresh and original in the story and I like to see it separate itself from the original content. So I was excited to see how this retelling would pan out for me. And to be quite honest with you, I really love the cover, so it played a big part in me picking this up.
The Surface Breaks is a feminist retelling of The Little Mermaid, which focuses on Muirgen (or Gaia as her mother called her) who lives under the oppressive thumb of her father, The Sea King. She is deemed the prettiest of her sisters, so her father prances her around for her beauty. But she doesn't feel like she belongs and yearns to find out what happened to her mother, even though her father claims that humans killed her.
I found this to be a good retelling. It is a straight up retelling, with a lot of the original aspects of the story, but also with some added goodness. For example, there's a rival tribe of a different species of mermaids, called The Rusalkas (which I believe is from Russian folklore), who are at war with The Sea King and who are led by Ceto, the Sea Witch. There are a lot of interesting points of the story like that, and they were used really well. So I think the concept of the story is really interesting, even though this wasn't as original as I like my retellings to be. It's a straight up retelling.
I also really enjoyed the feminist points the author was trying to make. For example, Ceto is a really powerful, plus size mermaid, who is really comfortable in her own skin and is sort of an "unruly" woman, which I really loved. There's also a point in the story where our main character is reclaiming her voice (you already know The Little Mermaid loses her voice) and that was superbly done. Also, one of Muirgen's sisters is sapphic (even though that wasn't said explicitly on the page, but it's made obvious by the text), and that sort of commentary was also interesting.
However, this book did a thing I really dislike. This story is just used to convey this feminist message. What that means is that the story itself is fitted to the thing the author is trying to say, rather than the story having a proper grounding on its own. I didn't feel anything for the characters, they were very bland and I did not feel particularly moved by the story itself. Moreover, the more of feminist writing I read, the more I am craving nuance and deep explorations of gender and feminism, and this just doesn't offer that. While it's definitely obvious what the author was trying to do, for me personally it didn't make much of an impact. It's by no means a fault of the book, it's a personal preference of mine.
I did think that this was good, and I would still recommend it. There were some shining points, I just wish the book went deeper and not remained so surface level (pun intended).
Final verdict: 3.5 stars
I would love to hear from you! Have you read this one? What were your thoughts on it? Let me know in the comments!
xxx
Come hang out with me:
Follow me on Bloglovin' | Goodreads |Facebook| Tumblr| Twitter | Instagram|Pinterest
*Used Book Depository links are affiliate links which means I get a small commission if you buy a book through my link, which helps me out a lot!
*Vectors graphics designed by Freepik