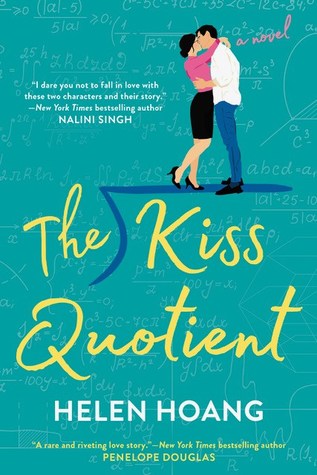 "She didn't know how to be semi-interested in something. She was either indifferent . . . or obsessed." 
I was so surprised to see a Romance novel get so much hype and so much exposure. Pleasantly surprised, but still. And then I saw that this was an ownvoices novel, with a neurodiverse female lead, who is on the Autism spectrum. And I was immediately sold. I have read multiple books with men with who are on the Autism spectrum, but never a woman. So I was really excited to pick this up. And people, this book will not disappoint you.
Stella Lane is a econometrician who is on the spectrum, and she is having trouble establishing a relationship. Her mother is constantly on her case, so she decides to hire an escort, Michael, to help her "learn" how to be good at sex and relationship.
This is a really well written romance novel. The characters are multidimensional, the story has a good flow to it, nothing feels too fast or too slow. I find that Romance novels are mostly not that great writing wise (of course there are exceptions – check out Alisha Rai novels or The Hating Game by Sally Thorne). This book is a really amazingly written piece. I haven't been inclined to review a Romance novel since The Hating Game, and this book made me want to review it immediately.
I love both Michael and Stella. They genuinely feel like real people, with real problems and real hardships and I really appreciated how the author spent time with them, and made them exist outside of their interactions and relationship. They're both really fantastic characters and I liked them both, which is a rare occurrence with me in romance novels.
I find that the majority of romance I read tends to be light (even when it deals with more serious stuff) and remains really surface level. It's easy and fun and makes you feel nice, and that's why I like it. I am not someone who hates romance novels or someone who deems them trashy and less worthy, but there is a sort of less serious vibe to romance novels.
This wasn't like that. I feel like the author handled so many different topics really easily and she managed to interweave it into the story seamlessly, but she still gave those topics depth and meaning. The way the autism spectrum disorders are discussed and handled, how sex work is handled, how family is handled – it was all really well done and I really appreciated that.
The author's note at the end is fantastic, and I highly enjoyed seeing her thought process and how this book came to be and what she tried to do with it. And she managed it beautifully.
The characters had amazing chemistry from their very first encounter. This book is steamy and it's really well written. There's build up, even though their relationship develops real fast and that's a tricky thing to nail, but the author manages to.
I really enjoyed this book. I think it's one of the best romance novels I ever read, and one that is really diverse and well written. Highly recommend. If you are to read one romance novel this year, make it this one.
Final verdict: 4.5 stars
Let me know if you read romance novels, and how you feel about them. And also if you picked this book up or have any plans to!
xxx
Come hang out with me:
Follow me on Bloglovin' | Goodreads |Facebook| Tumblr| Twitter | Instagram|Pinterest
*Used Book Depository links are affiliate links which means I get a small commission if you buy a book through my link, which helps me out a lot!
*Vectors graphics designed by Freepik