Well, that was fun!
As you guys remember, I announced I was doing a readathon last week and now it's officially over, so I wanted to update you on my reading!
Firstly, reading for 48 hours was really fun. The situation wasn't ideal, since I just came back from vacation when the readathon started ( just a couple of hours before, actually) and I was completely knackered, so I could not stay up very late to read. However, I spent every possible free minute I had on reading, and that was great. I usually spend some time watching Netflix or just being on my phone, so it was great to just dedicate my free time to reading.
Here's the stuff I managed to read!
1. Fence #7 by C.S. Pacat and Johanna the Mad
I started with issue 7 of Fence which I really enjoyed. I have been loving this comic book series. I love the art and the characters and the backdrop of a fencing school is really interesting. The comic is pretty diverse (I think all characters are LGBTQ+ and there are POC characters as well). However, I will say that they are all male, and I know that the author's series of Captive Prince was said to be kind of fetishizing. I haven't seen anything alarming in Fence and I really am loving it so far. It's got a lot of Yuri! On Ice vibes and I love that.
Page Count: 30
2. The Wicked + the Divine Volumes 5 and 6 (Imperial Phase Part 1 & 2)
I absolutely loved these two volumes! WicDiv is a comic book series about twelve gods who reincarnate as humans every 90 years. They're all from different religions and they all become pop stars. It's absolutely brilliant. The art is fantastic, it's really well written and the story just keeps on getting better. I adore everything about it.
Page Count (Volume 5): 144
Page Count (Volume 6): 168
3. The End by Samuel Beckett
This is one of the Penguin Modern books and it collects two stories by Samuel Beckett – The End and the Calmative. Beckett explores the absurd and pointless of human existence and while sometimes the vapidness of his writing works, this time it didn't. I was just mainly bored and uninterested. Not my favorite thing he's written, but I would highly recommend Waiting for Godot, where the pointlessness and vapidness actually work.
Page Count: 55
4. Create Dangerously by Albert Camus
This is a non fiction collection of short essays about art and what it means to create and the obligations the artist has. Camus discusses the fact that the artist has a moral obligation to use art to speak up for those who can't and argues that art should be politically driven. It was very indicative of the time it was written in, but still, a lot of his ideas and musings are completely universal and work in our time as well. It was a really interesting and well-written read, but wasn't anything mind blowing for me personally.
Page Count: 54
5. Fruit of the Drunken Tree by Ingrid Rojas Contreras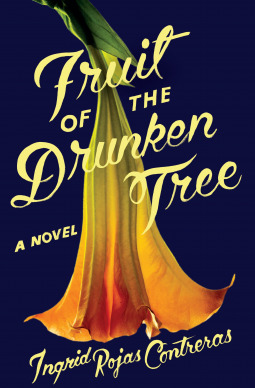 Set in Bogota, Colombia, during Pablo Escobar's terror reign, this book follows two girls, Chula, who is 9 years old and her maid, Petrona, who is about thirteen. The book follows them after Petrona comes to work for Chula's mother. I really loved the writing in this and I loved the backdrop of the narco war. However, this just wasn't a book for me, even though I think it really is a great and important book. I will have a review up for it tomorrow.
Page Count: 304
So that brings my total page count to… 755! I am pretty satisfied with that, even though about half of that is comic book pages. I really loved those comics so I am not complaining. That means that I managed to complete 3 of my 4 challenges: read a graphic novel, read a book under 100 pages and read 4 books! I did not manage to get a start on a big book, but that's happening now, so it's all good!
Hope you enjoyed this little wrap up and let me know if you would be interested in participating in more of these readathons!
xxx
Come hang out with me:
Follow me on Bloglovin' | Goodreads |Facebook| Tumblr| Twitter | Instagram|Pinterest
*Used Book Depository links are affiliate links which means I get a small commission if you buy a book through my link, which helps me out a lot!
*Vectors graphics designed by Freepik