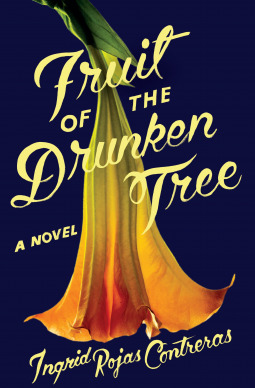 A serious case of "It's not you, it's me". 
This book popped up on my Edelweiss homepage, and I really liked the sound of it. It's set in Bogota, Colombia, and I have never read a book about Colombia. Moreover, this is set during Esobar's terror reign over Colombia, and since I enjoy media about that time period, I was really interested to see a more human story, one that doesn't revolve around Escobar himself.
This story follows Chula, a really sheltered, well-off young girl, and her new maid, Petrona as they strike up an unlikely friendship which leads them on a really dangerous path. While the premise really grabbed me, and the writing is really beautiful, this book didn't really work for me. And it isn't really the book's fault.
I really loved the writing style. This is compared to Marquez and Allende and I can totally understand why. The author really knows how to construct a sentence and she really manages to create an atmosphere.
I also loved how she used the backdrop of the narco war to bring forth and accentuate a story about two girls, who are very different, but who manage to find a certain kinship. I truly think this is really well written and I can see it being loved by so many people.
It's also really lovely to see an own voices novel about Bogota, and especially Bogota during the Escobar and narco wars era. I really appreciated that and I am so glad that this book got published and I hope more people read it.
However, this isn't the book for me. I personally have a really hard time with historical fiction. And while this is really recent history, for me it reads like a World War II novel. It's slow and focuses on the day to day life in awful circumstances and I really can't stand that kind of story telling. It's something that does not work for me at all.
Moreover, this is told from the perspective of a 9 year old girl for the most part, and I can't stand literary fiction from a child's point of view. I can't connect with the characters like that. I just don't think that the writing style of literary fiction suits the voice of a child, if that makes sense.
I felt disconnected from this story at all times, and I couldn't really find anything in this to latch on to. For me, a beautiful writing style just isn't enough.
This really did not work for me, but I would still recommend this. I genuinely believe that if you like historical fiction, you would like this. It's exceptionally well written, but just not written for me.
Final verdict: 2.5 stars
Let me know if you have heard about this one and whether or not it seems interesting to you. I'd love to know!
xxx
Come hang out with me:
Follow me on Bloglovin' | Goodreads |Facebook| Tumblr| Twitter | Instagram|Pinterest
*Used Book Depository links are affiliate links which means I get a small commission if you buy a book through my link, which helps me out a lot!
*Vectors graphics designed by Freepik