I am gonna participate in another readathon!
Last year, I participated in the Booktubeathon and it was a ton of fun! I really love and enjoy the challenges, so I am happy to be participating again this year! QUICK SIDE NOTE before we begin: I am hosting a giveaway on my Instagram and you can ENTER HERE.
Booktubeathon is a week long readathon. This year it will be held from July 30th to August 5th, so you start at the stroke of midnight wherever in the world you are and you read for a week! The goal is to read as much as you can! There's always a bunch of people doing the readathon, and that's honestly one of the best parts of it.
Also, there are video challenges and Bookstagram challenges and it's just a bunch of fun!
There are also 7 reading challenges, like every year, so I made my TBR around those, so here we go!
1. Let a Coin Toss Decide Your First Read
So I picked two books and I flipped a coin and that's my first read! So the two books I chose are two of my most anticipated ARCs: The Lady's Guide to Petticoats and Piracy by Mackenzi Lee and Pride by Ibi Zoboi.
And the coin flip says I am reading… Pride by Ibi Zoboi! I am super pumped about this one, it's a Pride and Prejudice retelling set in New York and it sounds marvelous!
2. Read a Book About Something You Want to Do
Okay, so I decided to just interpret this to my own volition and decided to go with The Psychology of Time Travel by Karen Mascarenhas. Time travel fascinates me, I love time travel stories and I would love to be able to use a time machine (even if it is a hot tub one). Plus, this has psychology in the title and I am a psychologist and that's obviously what I want to do.
This book is like a female focused murder mystery with time travel! Honestly, what more can you ask for?
3. Read and Watch a Book to Movie Adaptation
Okay, so I am hoping to finish American Gods during the readathon and then I am gonna watch the show! I have already started American Gods, but since it is a 700 page book, I don't think that's cheating, plus I can do whatever I want. Since American Gods is a TV show, I am hoping to at least start it and watch a couple of episodes, but I will see how I get on with it, maybe a binge watching is in order.
4. Read a Book With Green on the Cover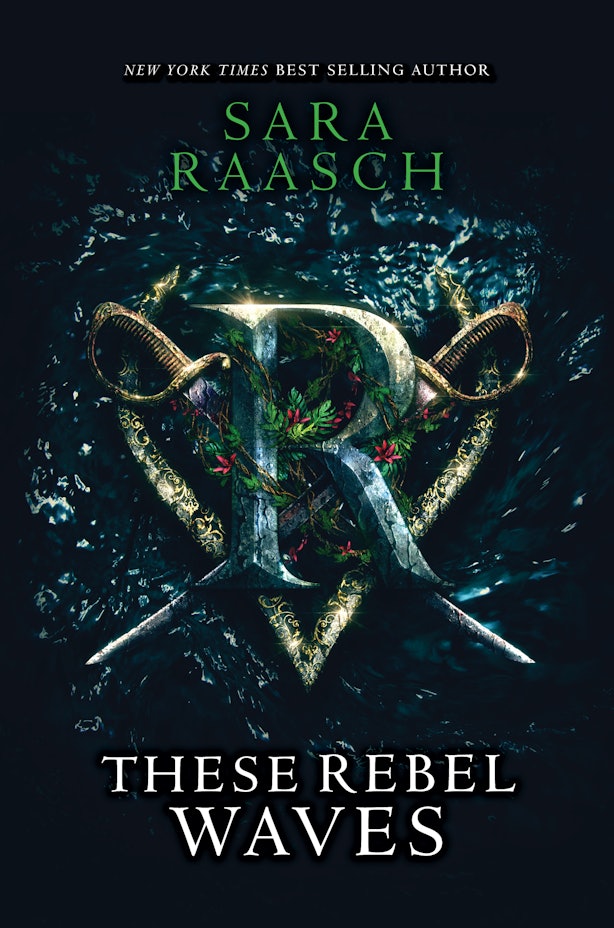 For this one, I am gonna go with These Rebel Waves by Sara Raasch! All I know about this is that it's about an all female pirate crew. And that's all I need to know. Plus, Sara Raasch comes highly recommended so I am excited to dive into this one! And god, that cover is pretty.
5. Read a Book While Wearing the Same Hat on Your Head the Whole Time
This is doable, and I can even go outside and pretend I need the hat instead of sitting in my room with a hat on my head for no apparent reason.
6. Read a Book With a Beautiful Spine
I am picking The Bone Clocks for this! An all around stunner! I know that I can't finish this one, since my TBR is already huge, plus this is a chunky book, but I am hoping to at least start it during the readathon and finally read that book. Also, I could not find the spine pic anywhere, and I can't take photos of my own, so I leave you with the cover!
7. Read 7 Books
Yeah, not happening.
And that is my ambitious TBR! I am hoping to just get as much reading in as I possibly can so I am not too bothered by it! Let me know if you have any plans to participate in this year's Booktubeathon!
Here are all the Booktubeathon links:
YOUTUBE | TWITTER | INSTAGRAM | WEBSITE
Hope to see you on the interwebs during the week!
xxx
Come hang out with me:
Follow me on Bloglovin' | Goodreads |Facebook| Tumblr| Twitter | Instagram|Pinterest
*Used Book Depository links are affiliate links which means I get a small commission if you buy a book through my link, which helps me out a lot!
*Vectors graphics designed by Freepik