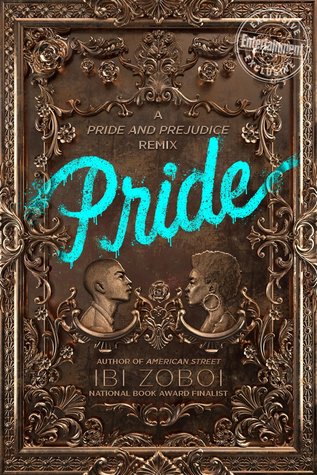 "It is a truth universally acknowledged that when rich people move into the hood, where it's a little bit broken and a little bit forgotten, the first thing they want to to do is clean it up."
"It is a truth universally acknowledged that when rich people move into the hood, where it's a little bit broken and a little bit forgotten, the first thing they want to to do is clean it up."
It's Booktubeathon Day 1 and I have already finished a book! I decided I need to review it asap, while it's still fresh in my mind and when I can explain why this failed me on so many levels. You guys know that Pride and Prejudice is one of my favorite books of all time, and you know that I was beyond excited about Pride – an ownvoices retelling set in Bushwick. However, I had such high expectations for this and they were not met.
Pride follows Zuri Benitez, a 17 year old resident of Bushwick, who loves her hood and her loud, large, Haitian-Dominican family. But one day, a rich black family moves in across the street and everything changes.
I loved that this was a diverse retelling of Pride and Prejudice. And in my opinion, Zoboi picked the perfect setting to retell this story. The Bennets become the Benitezes, who host block parties and have a lovely little community, while Darcy and Bingley become the rich brothers Darcy, who are threatening to completely change the landscape of Zuri's hood. I loved how Zoboi used that premise to retell the Pride and Prejudice story.
This is a straightforward retelling, which uses a lot of the original story's elements and but does it in a new, refreshing way. Zoboi does clever things with discussing privilege and she contrasts two black families in this, which was amazing.
I am so glad that young black people will be able to see themselves in a story like this one. I am so glad that they are getting a diverse retelling of a beloved story as its protagonists. This is so important and I am so glad this book exists.
I hated the writing. Absolutely detested it. This is just exposition for 300 pages. There's no show, it's just tell. All the damn time. It felt basically like the author telling me "and then this happened, and then this, and this is how I felt". I absolutely hated that.
I find heavy exposition annoying even in complex Fantasy settings (even though I get that sometimes it's necessary). But there's no need to have such heavy exposition in a contemporary book, and to me it was a testament of poor writing. Moreover, once I started fixating on the writing, I started to notice a bunch of stuff that I found insufferable. For example, the overuse of the words shady and corny. Let me tell you, the number of times Zuri found things to be corny or shady was disquieting.
The dialogue was one of the worst parts of this book for me. It was so jarring and felt so artificial. There was an overuse of exclamation points over and over again, and I cringed on every single page. None of the conversations or interactions felt organic, they just felt so strained and awkward.
Maybe it was due to the writing, but I did not like any of the characters in this book. They felt really two dimensional and lacked any sort of distinctive qualities for me. Moreover, I found them to be really inconsistent and they constantly did things that clashed with what they said and were just basically nonsensical.
And their relationships with each other were the worst. I did not find the romance believable at all. I did not find Zuri's hate nor her love for Darius to be well written and I had a hard time believing and investing myself into their relationship. It was just exposition of hate, then an afternoon of small talk (that we were told about, not shown) and then she was in love with him. I hated it on all sorts of levels.
Ultimately, this book was a big disappointment. Am I glad it exists? Absolutely. Did it work for me? Absolutely not. A lot of potential, but for me a miss, and I would not really recommend this one.
I would love to hear from you! Do you have plans to read this once it's out? Did you perhaps read it already? Any thoughts to share? Let me know!
xxx
Come hang out with me:
Follow me on Bloglovin' | Goodreads |Facebook| Tumblr| Twitter | Instagram|Pinterest
*Used Book Depository links are affiliate links which means I get a small commission if you buy a book through my link, which helps me out a lot!
*Vectors graphics designed by Freepik