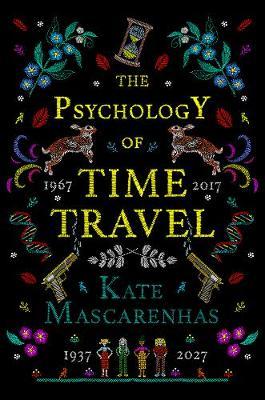 "The laboratory, in Cumbria, was home to four young scientists".
I first saw the lovely Zuky from BookBum unbox an ARC of this and I was immediately drawn in by the cover and the title. I love the concept of time travel and the science it would take and what's behind it, and you all know I love psychology since I am, in fact, a psychologist. So basically, this book combined three of my favorite things – pretty covers, time travel and psychology. I immediately requested an ARC and ended up getting one through Netgalley. I started reading this one with zero expectations and was blown away by how much I enjoyed it.
The Psychology of Time Travel follows a lot of women in different time periods: we follow the pioneers of time travel – Bee, Margaret, Lucille and Grace at the time of time travel invention and then we move to two more time lines. One is set during 2017, and we mostly follow Bee's granddaughter Ruby, a psychologist. And the last one is set during 2018, and we follow Odette, a student who discovers a body in a toy factory and sets to solve the mystery of it.
I struggle a lot with feminist fiction because most of it tries too hard and it's always so on the nose about it. This one is just feminist because it is. This focuses solely on female characters and I think there's barely any male characters in the whole book. Moreover, they are all really smart and capable women and the book definitely passes the Bechdel test. Moreover, one of the main characters is a lesbian and there are multiple POC characters in this. It's GREAT.
The premise of this is really amazing. Time travel is always fun and exciting and in this novel it really worked. I really loved how time travel was used to both design the murder mystery aspect of the story, but also to show how time travel affects people and their mental health and how it changes your outlook on life. While the concept of time travel isn't developed with as much detail I would love, its potential is fully used and I really liked that.
The murder mystery part of this is really interesting. It does work and there's a lot of clues through out. You can guess by the end who is the murderer and who is the victim and I tend to like that. It isn't predictable, it's just well-written, and it makes sense, which makes it possible to guess. Plus, this mystery is unlike any other I read because it relies heavily on time travel, so there's a whole other aspect to it.
This book manages to be a cozy murder mystery, a thriller, a SciFi time travel book, an exploration of mental health and cult-like behavior and I really loved how the author managed to blend these things together and make them work seamlessly. Moreover, this is a very human story which I always love and appreciate.
I did not expect this to actually have so much focus on psychology and mental health but I did and I really appreciated that. There's talk of anxiety, OCD, eating disorders and they're all handled really well. Moreover, this tackles the subjects of mental health stigma and explores all of this in a time travelling context. There's also talk about mortality and how it means nothing when you can time travel which was such an interesting thing to discuss and I loved it.
Also side note: time travel in here wasn't what you expect. There's no changing of the future nor the past and I really liked a different approach to it.
I highly recommend you pick this one up. A female centered mystery with time travel that's really clever and engaging – you really can't go wrong with that.
Final verdict: 4 stars
ALSO, from this review on, I am including three word summaries, for all of you who can't be bothered to read my whole rambling. There's even a designated page now where there are three word summaries for each book I reviewed, which you can peruse when you want to.
Unique, Engaging and Clever
Let me know if this book sounds interesting to you and also how you like the inclusion of the three word summary!
xxx
Come hang out with me:
Follow me on Bloglovin' | Goodreads |Facebook| Tumblr| Twitter | Instagram|Pinterest
*Used Book Depository links are affiliate links which means I get a small commission if you buy a book through my link, which helps me out a lot!
*Vectors graphics designed by Freepik