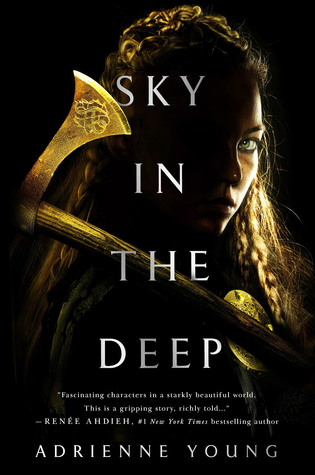 "Vegr yfir fjor." Honor above life." 
I am sure all of you have heard of Sky in the Deep. It's one of the buzziest YA releases of the year and it's one of those that I was apprehensive to pick up. It gave me a lot of The Last Namsara vibes, and I really disliked that book. But I ended up getting a copy of it in an Owlcrate box, and I always get excited about Owlcrate boxes and books featured in them. Moreover, this has been getting so many positive reviews (and for people whose blogs I ADORE) so I figured I was bound to like it. But I did not.
Sky in the Deep follows Eelyn who has been taught her whole life that The Riki are the enemy to her own clan, Aska. They are at war with each other for centuries and Eelyn lives for the fight. However, one day, on the battlefield she sees her brother who died five years ago. That sets her on a path that will change the destinies of the two clans forever.
I expected this to be a Fantasy book. It really isn't. This has a certain Viking vibe and it works as a historical fiction. There's nothing fantastical about the book actually. The author spends zero page time on world building. I got no sense of the setting. The most we get is an explanation that one of the clans live on the mountain and the other lives on the fjords. It just has no real substance and it isn't really grounded in anything. It's just a backdrop that isn't really fleshed out. I like my Fantasy settings (or any settings for that matter) to have a real sense of place, and this really did not have that. So I had a hard time surpassing that.
I felt nothing for these characters. I could not tell you more than one character trait for each of the characters. Like Eelyn is angry and Fiske is quiet and Iri is determined but it never goes beyond. I feel like books like these aren't for me because they aren't introspective enough. I can't get a real feel for the characters since they never turn inward and when I can't understand the characters I can't like them and then I can't like the book. I just did not find anything original about these characters. They could have been plucked from any YA book and I could not tell them apart from a line up of mediocre characters.
My biggest issue with this book is that it's painfully formulaic. It has forbidden love and two clans at war who GUESS WHAT are actually pretty similar (stupidly similar, like they could have had different traditions, we could still play the "we are all people" card). I could tell what would happen next on each and every page. It's painfully predictable and follows the same old, stale formula – Eelyn gets captured, she hates The Riki, but starts spending time with them, realizes that they aren't too bad, falls in love with the enemy, has to explain that to everyone and then they live happily ever after. BORING.
None of the relationships felt authentic or like they developed in an organic way. Fiske and Eelyn have zero real conversations before they start "feeling tingly and shuddering" around each other. Iri and Eelyn's relationship is based on meek flashbacks into their childhood and doesn't have any grounding in current events. And that goes for everything. The characters are hollow and thus their relationships are bland.
It's not that this book is bad. It's decently written and I did manage to finish it. It's just that it's so painfully mediocre that I wanted to fling it across the room on numerous occasion. So I would not recommend this one.
Final verdict: 2.5 stars 
As with previous reviews, here's a three word summary of this book, in case you get bored with the actual review:
Formulaic, Mediocre and Bland
I would love to hear from you! Have you read this one? Did you enjoy it? Are you planning on picking it up? Let me know!
xxx
Come hang out with me:
Follow me on Bloglovin' | Goodreads |Facebook| Tumblr| Twitter | Instagram|Pinterest
*Used Book Depository links are affiliate links which means I get a small commission if you buy a book through my link, which helps me out a lot!
*Vectors graphics designed by Freepik