A feature in which I share new books I added to my TBR.
Yes, my friends, it is time for another quick round-up of the new books I discovered and added to my TBR. I have been living that saying of "so many books, so little time" lately, so I was just compulsively browsing Goodreads, podcasts and the interwebs, so here are some books I want to read, someday (hopefully soon).
1. Tempests and Slaughter by Tamora Pierce 
Why I added it: I am one of those people who has never read a Tamora Pierce book before. It might not be wise to start here (I am pretty sure all of her books are set in the same universe), I really like the premise of this one (and the cover, let's be real), so I got an ARC of it.  This is a prequel to one of her other series and it follows Arram as he is studying to become a mage (I am hoping the school is mentioned a lot). The story is centered around him and his two best friends, Varice, described as a clever girl with an overlooked talent (aren't they all?) and Ozorne, a "leftover prince" with secret ambitions. This promises friendship, adventure and magic, and what more can you ask from a book?
2. Amberlough by Lara Elena Donnelly 
Why I added it: Let me quote you the pitch for this book:
Le Carré meets Cabaret in this debut spy thriller as a gay double-agent schemes to protect his smuggler lover during the rise of a fascist government coup. 
I mean, who doesn't want to read this? This is like a Fantasy, thriller, mystery mix and I am ready for it. All of my friends liked it and it just sounds like something unique and new and fresh, so I am totally on board with this one.
3. Sadie by Courtney Summers
Why I added it: I am sure you've heard about this one, but it mixes two of my favorite things – books and podcasts. After Sadie's sister is found dead, Sadie is determined to find her killer and bring him to justice. A reporter overhears her talking about this, and gets obsessed with the case. After that, he starts a podcast which tracks Sadie's journey, trying to figure out what happened. Everyone is obsessed with this book, and it actually has a companion podcast that just started airing. Sounds amazing. I actually have the audiobook for it (thanks Scribd), which has a full cast, so I am really excited to dive into that one as soon as I can.
4. Anger is a Gift by Mark Oshiro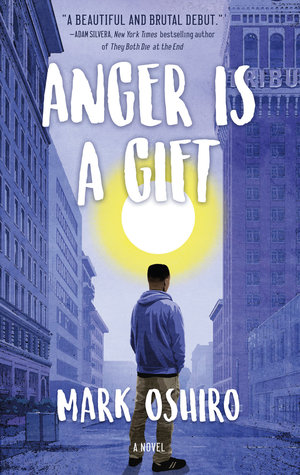 Why I added it: Another YA novel that promises to be incredibly powerful. The story follows Moss, whose father was murdered by a police officer, which not only left Moss without a parent, but ended up giving him bad panic attacks. Years later, Moss and his friends are being targeted and treated like criminals by their own school, so they decide to push back. This has an incredibly diverse cast of characters and I think it's gonna be amazing.
5. Darius the Great Is Not Okay by Adib Khorram 
Why I added it: Keeping it on theme – this book follows Darius, who is od Persian decent and who is dealing with depression. He never truly felt like he fit in, until he travels to Iran to visit his grandparents. There, he meets Sohrab, and for the first time, starts feeling like he has a place in this world. Another novel that promises to be very powerful and heartwarming. Plus, it comes highly recommended from my Twitter friends.
And those are some books I recently decided I need to read. As always, let me know how you like these, and tell me all about your recent TBR Additions!
xxx
Come hang out with me:
Follow me on Bloglovin' | Goodreads |Facebook| Tumblr| Twitter | Instagram|Pinterest
*Used Book Depository links are affiliate links which means I get a small commission if you buy a book through my link, which helps me out a lot!
*Vectors graphics designed by Freepik