"Alexa looked down into her coffee again, gazing into the dark brown liquid like it was Dumbledore's Pensieve" 
I mean, any author who makes a Harry Potter reference is an instant winner in my book. You might have heard of Jasmine Guillory – her book The Wedding Date made quite a splash in the romance book community, and for all the right reasons. I read The Wedding Date earlier this year, and I was trying to get an ARC of her new release, The Proposal, but it was limited to US readers. Enter the Penguin Random House International department, who are certified angels and work with international bloggers. They sent me a few ARCs on Netgalley, and The Proposal was among them! Rejoice, everyone! Thanks for the free book, Penguin! Naturally, all opinions stated are my own because that's how we roll here.
So since I got the opportunity to read The Proposal, I figured I might as well review The Wedding Date with it, since I never did! So let's get to it.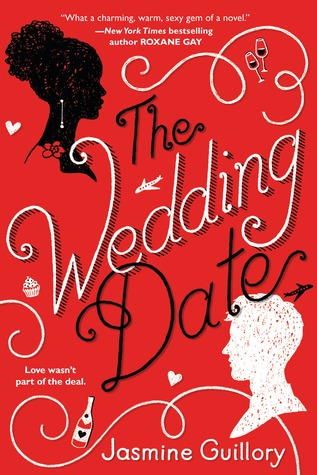 This is Guillory's first novel, and it follows Alexa and Drew, who meet in an elevator when they get stuck together (I KNOW). Drew is going to a wedding, where his best friend is marrying his ex-girlfriend and he doesn't have a date. So he asks Alexa if she wouldn't mind going with him as his fake wedding date. And then they fall in love.
I really loved this for a number of reasons. The first one being that our female lead is black and our male lead is white and there's so much discussion of privilege and Drew has to check his privilege a lot in this book. And Alexa constantly calls him out on that. And it was so well done. I really enjoyed that. Moreover, this is one of the books where the couple has real-life problems that they have to overcome and their relationship is tested in a really realistic way. Another great part of the novel is the fact that Alexa gets insecure about her body, and there's a lot of discussion on beauty standards and how the beauty norms are unrealistic and especially how they affect black women. It was great.
So if you want to read a really amazing romance, that manages to discuss a lot of different important topics and if you like the fake dating trope (and who doesn't?), then this book is a perfect pick.
Final verdict: 4 stars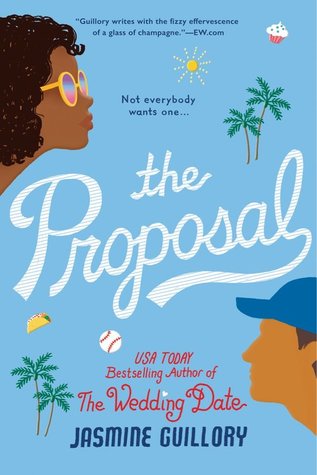 The Proposal follows Drew's best friend, Carlos, who I already loved in the first book. So Carlos is attending a baseball game, when a girl gets proposed on the Jumbotron and says no, which leads to the whole stadium judging her and also a news crew starts hounding her. Carlos and his sister decide to jump in, and help her, which is how Nik and Carlos meet. And then they fall in love.
Again, a really amazing romance with so many wonderful, important stuff in it. Our female lead is black, our male lead is Latino, there's a black lesbian side character, a plus size Korean side character… There are discussions on emotional abuse, there are amazing female friendships, a lot of girls supporting girls and I loved every second of it. And Guillory is really good at incorporating these things into the story so they work with the general arc of the novel. It's GREAT.
My one grievance with this novel is that it was real cheezy at times and I feel like the romance progressed a little too quickly.
But still, this was beyond fun and beyond cute and it was just chock-full of amazing stuff.
Final verdict: 3.75 stars 
If you want fun, engaging and incredibly diverse romance novels (that are not too explicit) then look no further. The Wedding Date and The Proposal are a perfect match for you and I highly recommend them!
Let me know if you've read or plan to read any of these! And if you did, how did you like them, I'd love to know!
xxx
Come hang out with me:
Follow me on Bloglovin' | Goodreads |Facebook| Tumblr| Twitter | Instagram|Pinterest
*Vectors graphics designed by Freepik