A feature in which I share new books I added to my TBR.
Okay, so I am deep in the studying hole, which means very little time to eat, sleep or blog (the three basic human needs). So to hold both you and me over, until I can provide actual content – more books I added to my TBR to console myself over the fact that I barely have any time to read. And these are some really good ones.
1. The Traitor Baru Cormorant by Seth Dickinson 
Why I added it: I don't know how you pick your books, but one, I really liked this title, so I knew I had to read, and it was reviewed and loved by the wonderful Melanie @ Mel to the Any which is basically the best stamp of approval you can get for your book. I think this is like a dark fantasy book and it's giving me serious Locke Lamora vibes, but with a female protagonist, which is all I never knew I needed in life. I think this will be a book I love and I am excited to get to it.
2. Okay Fine Whatever: The Year I Went from Being Afraid of Everything to Only Being Afraid of Most Things 

by

 Courtenay Hameister

 
Why I added it: This is Courtenay Hameister's memoir chronicling a time in her life when she decided to stop being afraid of everything. She was anxious her whole life and she lived in this constant state of dread. Until she decides to spend a year doing little things that scared her – she spends an afternoon in a sensory deprivation tank, she attends a fellatio class and she has a session with a professional cuddler. This book chronicles her experiences and it sounds like it's gonna be hilarious and really poignant – and who doesn't love that combo? I know I do.
3. Our House by Louise Candlish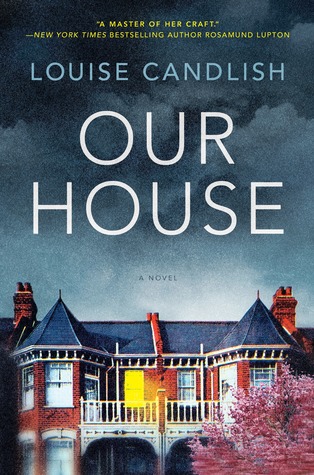 Why I added it: Because the blurb terrified me – and that made me want to read it. The story starts with Fiona, who watches a family move into a house one day. Except it's her house and she did not sell it. CHILLS. Fiona and her estranged husband have a deal in which their home is sort of a bird's nest for their children – they each spend a couple of days in the house with the kids and then switch. But now, there's someone moving into her house, her husband and children are missing and she has to find out what happened. It sounds stressful but also SUPER intriguing.
4. Heretics Anonymous by Katie Henry
Why I added it: This book has been making the rounds and we all know how much I love a bandwagon. This follows Michael who is an atheist and due to his family move, he is relocated to a strict Catholic school, where he really feels like he doesn't belong. Until a girl challenges a teacher in a class and he thinks he has found a like-minded soul. Except Lucy is not only a Catholic, but she also wants to become a priest. She invites him to a secret club made up of all the other outcasts of the school and things take off from there. I think I am gonna absolutely love this one. It promises discussion of religion and faith and friendship and it's gonna be great, I can feel it.
5. She Begat This: 20 Years of the Miseducation of Lauryn Hill 

by 
Joan Morgan
Why I added it: And now something completely different. This requires a bit of back story. I love Drake (because it's Drake, duh) and I loved his new song Nice for What and was obsessed with it for weeks. And my sister's boyfriend pointed out to me that it had a sample of Lauryn Hill's song. Now, I knew very little of Lauryn Hill and how big and important of a figure she was. So he sent me a video from Nerdwriter and I downloaded the Miseducation of Lauryn Hill and I really loved it. So when Rebecca talked about this book on the All the Books Podcast I knew I wanted to read it. It's about Lauryn Hill's influence and this album's place in pop culture to this date and just a portrayal of a really interesting figure. So I can't wait to pick this up!
And those are new books! I am so excited for all of these. Let me know what you think of them and also tell me all about new books you recently added to your TBRs!
xxx
Come hang out with me:
Follow me on Bloglovin' | Goodreads |Facebook| Tumblr| Twitter | Instagram|Pinterest
*Vectors graphics designed by Freepik