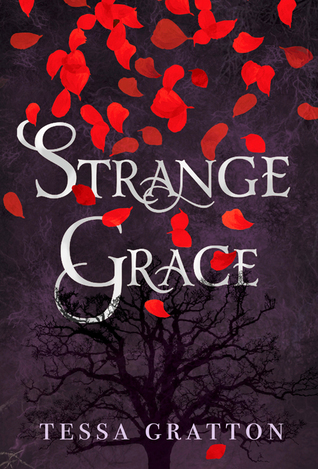 "She will make a charm of these kisses: life, death, and a blessing in between."
I was browsing Edelweiss a while ago, and I saw this book pop up – I thought it sounded interesting but nothing much else. And then I saw that Melanie from Mel to the Any absolutely adored this one, and I trust her opinion on books completely, so I thought I would request it. I got an ARC, but I just got around to it now. The book instantly hooked me, because it's so beautifully written, but I can't say it worked for me completely. So let's talk about why.
Strange Grace is set in the town of Three Graces, where there's no illness, no drought, no problems whatsoever. In exchange for prosperity, the town made a deal with the devil – every seven years, they will send their best boy into the woods to run with the devil. Only this time, the Slaughter moon has risen early. We follow, Mairwen, a witch, Rhun the expected saint, and Arthur, an angry boy who was raised as a girl – as the devil demands a new sacrifice.
The first thing that instantly grabs your attention with this book is the writing. The imagery and the atmosphere that Tessa Gratton weaves together is so lush and rich and I absolutely loved it. This reminds me a lot of really dark fairytales, both in writing and in theme. It has a certain The Bear and the Nightingale vibe to it, with it's dark and ominous ambiance. And just the imagery that Tessa Gratton uses is so gorgeous. Her writing seems to jump out of the page and come alive and I really appreciate it. The imagery of this novel reminded me a lot of Maggie Stiefvater. For example:
Thorns grow out of his collarbones, hooked in two rows from his heart toward his shoulders. His knuckles are gnarled like tree bark. Antlers hide in his black hair, tangled and sharp, wrapping his skull in a crown. 
Literal chills. The writing was definitely the highlight of this novel for me and I can't wait to read more of Tessa Gratton's work.
I really enjoyed the characters. My favorite was definitely Rhun – he is the sort of cinnamon roll character who loves everybody and whom everybody worships. He is such a good guy and I just wanted to hug him. Mairwen is angry and independent and I loved her so much. Arthur is also the kind of character I enjoy. He has a desperate need to prove himself and to be worthy and he is angry all the time. And just all of the characters in the novel had something intriguing to them and I really enjoyed that.
As for the relationships, this book features a polyamorous relationship, which is so cool and it was actually the first time I ever read about polyamory in a book. I will say that I feel like the relationship between Rhun and Arthur read as way more powerful and strong, than both the relationship between Arthur and Mairwen and Mairwen and Rhun. They did make sense together, all of them, but I just wish we spent more time in their heads and more time in between them.
However, as much as I loved the writing and the characters, this book has a big issue with pacing and structure. The first 50 percent of the book is spent in the same loop where almost nothing happens. And that space isn't used to build up the characters or their relationships (which I really needed), but instead just seems empty and pointless. The book presumably builds to a big climax but then that climax happens offscreen. We just cut from their time in the woods and then we get that time in snippets from their memories which is so anticlimactic.
And we never truly know what is going on with the characters, mentally. We never see their true emotional reactions to each other, which is why I felt like some of the relationships were more grounded than the others. We never know how their dynamics work out and I feel like the book missed the mark on that one.
Moreover, not a lot of this made sense. The plot is all over the place, with side characters having some plot threads that go nowhere and never actually play out. Which to me makes them pointless and unnecessary. And I feel like the town itself did not make a lot of sense. On one hand they were really open about their sexuality and there's a lot of bi or pan characters, but then on the other they have so much hate for Arthur, which feels like transphobia. And also the whole town judges Mairwen and talks about her relationship with Rhun in a negative way which implies strict gender norms which again, doesn't fit into the rest of the narrative. It was really incohesive and made so little sense, which is a big pet peeve of mine.
I loved the writing and the atmosphere, but I had a huge problem with the structure and the plot of the story, so this book left me feeling confused. If you like dark and atmospheric stories, I would suggest checking this out, but beaware that the story doesn't have a lot of payoff in the end.
Final verdict: 3 stars
I would love to hear from you! Did you read this one or do you plan on reading it? Have you read anything else by Tessa Gratton? Let me know!
xxx
Come hang out with me:
Follow me on Bloglovin' | Goodreads |Facebook| Tumblr| Twitter | Instagram|Pinterest
*Vectors graphics designed by Freepik