A feature in which I share new books I added to my TBR.
Well, studying is done, but that doesn't mean my life hasn't been super busy. And it has. And as I get busy, I get seriously overwhelmed by the amount of books there are to be read, so I start adding them all to my TBR. So let's talk about some of them!
1. His Favorites by Kate Walbert
Why I added it: This book sounds absolutely brilliant. It follows a young girl, Jo, in the aftermath of a terrible tragedy. She and her friends stole a golf cart, they were drunk, the cart crashed and her best friend died. Jo was driving and so her whole hometown turns against her. She flees the town and enrolls in a prestigious boarding school, but her past and her guilt weigh down on her heavily. This is a really short novel (about 160 pages) so I am really interested to see how the author manages to use and also overcome the shortness of the novel. I can't wait to get to this one.
2. Nothing Good Can Come From This by Kristi Coulter
Why I added it: This is a memoir styled essay collection by Coulter, which focuses on the time after she decided to stop drinking. She explains how she stopped drinking and started noticing things – not only about her own life, but about women in general. And she discusses how alcohol (or other debilitating habits) affect our behavior and the way we live and occupy space and I just think this sounds incredibly intelligent and insightful. I tend to enjoy non-fiction in this style, so I am really looking forward to it.
3. Bad Blood: Secrets and Lies in a Silicon Valley Startup by John Carreyrou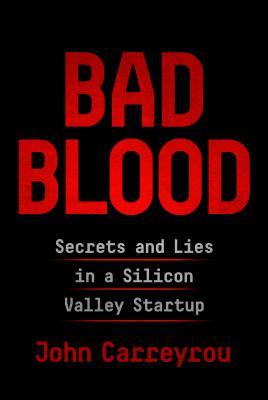 Why I added it: This is once again a non-fiction novel which I am definitely drawn to lately. This focuses on Theranos, a multibillion-dollar biotech startup, and the controversy surrounding it. The CEO, Elizabeth Holmson, was dubbed the "female Steve Jobs" and her startup promised to revolutionize the medical industry. They got a lot of backers and a lot of funding, and the company was estimated at more than 9 billion dollars. Except the technology did not work. John Carreyrou broke the story, started investigating it and pursued it to the end, despite the pressure from the CEO and her lawyers. This sounds ridiculous and I can't wait to pick this one up.
4. Her Darkest Nightmare by Brenda Novak
Why I added it: To be honest, this was probably recommended to me by Janel @ Keeper of Pages, because she is the only person that could convince me to read this. This is a thriller novel that follows Evelyn Talbot, a psychiatrist who is behind the Hanover House, a maximum-security facility in Alaska. She is at odds with the local Sargent who hates Hanover House, when a body of a local woman is discovered and Evelyn thinks that it's a personal threat to her from a psychopath she is trying to forget. This sounds terrifying BUT also, has a psychiatrist (which is close to my interest) and has a romance element to it, so it has all the potential to terrify me but also for me to love it. Fun times.
5. The Incendiaries by R.O. Kwon 
Why I added it: This a literary fiction novel that follows two people – Phoebe and Will, as they meet at university and fall in love. However, things start to fall apart when Phoebe gets involved with a religious extremist cult that is tied to North Korea. Phoebe gets increasingly obsessed, and when the group bombs several buildings in the name of faith, and kills five people, Phoebe disappears. Will is determined to find her and find out if she was involved in this terrible act. It's an exploration of love and extremist groups and what it means to lose the thing you love the most. It sounds absolutely harrowing and beautiful, so I am really looking forward to it.
And those are the new books on my TBR. You know the drill – let me know what you think of these and also, let me know if you've discovered some new books!
xxx
Come hang out with me:
Follow me on Bloglovin' | Goodreads |Facebook| Tumblr| Twitter | Instagram|Pinterest
*Vectors graphics designed by Freepik