Let's shift gears. 
As you guys know, I like to do all sorts of different posts on this blog, instead of focusing on just reviews and stuff. And recently, I have thought about what kind of fun post I could do for you – and here we are. This has been done a lot on Booktube, but I don't think I have seen any posts like this in the blogosphere. And I am not sure the blogging format would suit this kind of post, but we will soon find out together.
I am gonna be pulling negative reviews from Goodreads (or some of my friends) of some of my favorite books and then I am gonna be reacting to them. I think this is gonna be sad and fun, which is exactly what we aim for here on Inside My Library Mind. So let's get into it.
DISCLAIMER: I am using reviews that are available online. I don't want anyone to be offended and I am just doing this for fun. If we don't like the same books, that's great and that's the beauty of literature. So that's that! Here we go!
The most polarizing book ever – A Little Life by Hanya Yanagihara
Goodreads overall rating: 4.29
So as you know, this is one of my all-time favorite books and I think it's a masterpiece, but people HATE it. It has an overwhelmingly positive rating, but people are NOT into this book. Here's some of those people:
17 days, 720 pages later, I finally understand all the comments, however, I'm not in agreement with them. If I were to describe this novel in one word, it would be "depressing" – I've read a good few books that could be described in such a way but where they differ from this one is that other words can also be attached to them, words such as "hope" and "determination." A Little Life is just depressing. 'A Little Life of Pain' would be an apt title. It was such a sad story that I had to read several other books alongside it to break up the misery. On a positive note, every time I picked the book back up, I remembered the story clearly and was able to continue reading as if I never put it down. It wasn't all bad, it's just that as the story progressed, I liked it less and less and by the ending, I was just glad it was over.
My reaction: I love Janel and the "A Little Life of Pain" had me laughing out loud. It is true that this book is really depressing and I cannot say anything against that. But I still think it's beautiful and I have to say I don't think that it's SOLELY depressing. I think this book has so much to offer and I loved it and I am sad Janel didn't. She has been known to say it belongs in "depressville", which says a lot about my reading taste I think.
Brace yourself for the most melodramatic, pretentious, dull, dumb, overwritten, repetitive, laughable, cringe-inducing, self-indulgent, unbelievable, stereotypical, voyeuristic, contrived piece of fiction.

After pushing through and trying to motivate myself to finish this book just to see if there's more to it or some kind of message there… I'm putting this book down for good.
90% in. Normally, I would have kept going just to find out what happens to the characters, but honestly I care so little about any of them, they can all die or live, they just remain empty caricatures to me and I have better things to read.

At least it was so over the top it gave me a good laugh every now and then.
My reaction: This also made me laugh. Because I can not really argue with some of these points. It really is a pretentious book. But I do think that this did have a message in it and that it went beyond the "tragedy porn" that people attach to it, but hey, to each their own.
This Makes Me Sad – Truthwitch by Susan Dennard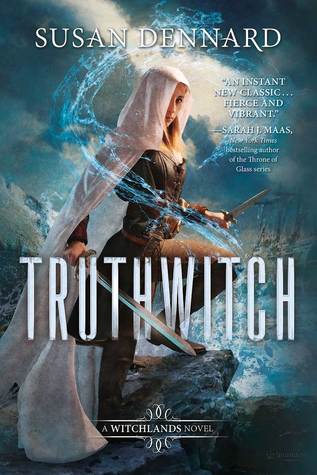 Goodreads overall rating: 3.91 
I am so sad that this book isn't as popular as I feel it should be. I feel like it's miles above any other YA Fantasy I have ever read, but people seem to not like it all that much. Which I can understand to some extent, and these reviews are a perfect example of why I think people have not enjoyed this one.
Truthwitch, for me, absolutely bombed; it was boring, the characters were flat, the prose was weak, and above all, it may as well have been written in Amharic for how well I understood it. This is my absolute number one complaint about this book. I can cope with weird, dull, angry Merik, and Safi who shares my trait of being unable to stop annoying people. I can deal with flat, dreary Iseult and all of the hundreds of thousands of politicians whose names I can't remember. I can cope with the numerous typos, the cliched elemental magic system, and the generic romance. But what I am not willing to overlook is the absolute shambles that is the world-building in this high fantasy novel.
My reaction: Oh my god this one hurt me. I disagree with this on all points. I think the characters are really amazing, I think the prose is great and I think it's a super engaging read. But I will say that I completely understand why a lot of people had issues understanding this. This is a very sciency book and it has the world building of an Adult Fantasy, even though it's YA. There's so much to grasp and nothing is explained at the end – because there are so many threads and clues throughout the novel, that are just emerging in the second or the third book. So I think this should have been an Adult Fantasy and would have a much wider audience.
First of all, the author didn't even bother to TRY and explain any the worldbuilding in this book. I was completely and utterly confused for the first 50 pages, then just gave up bothering to try and figure it out. I still have no idea if everyone in this world are witches or why some witches hate one another or why some races hate one another or why there was a war 20 years ago that they are now trying to prevent starting up again or what the hell 'Threadstones' are and why I should care that Iseult can't make them.

I enjoyed Iseult, but Safi was headstrong and stupid. She constantly made the WORST decisions, which put both of them in danger and then needed to be rescued, every.damn.time.
My reaction: Like I said, this is a YA novel that does world building the way Adult Fantasy does. So I get why people disliked it, I really do. And I actually agree about Safi. I usually hate characters like her but she totally grew on me.
I Cannot Comprehend You Not Liking This – The Hate U Give by Angie Thomas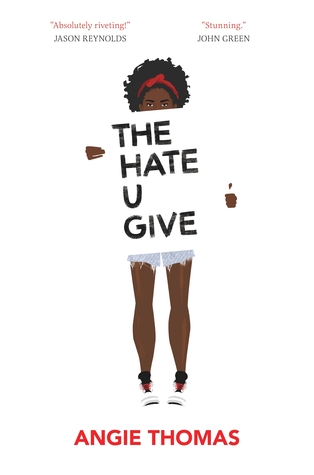 Goodreads overall rating: 4.56 
I picked this because I genuinely cannot understand people not liking this. I think this one of those books that should work for any type of reader. I generally don't read as much YA Contemporary but this was brilliant. I know people who read exclusively Adult books that have loved this, or exclusively Fantasy and have loved this one. So let's see what people had to say.
The Hate U Give is a novel about racism, undoing stereotypes and not judging others for the colour of their skin.

However, this does not apply to white people. The novel attempts to be funny by stereotyping white folks as rich goofy people who can't dance, eat green bean casserole and listen to Taylor Swift. Admittedly, I do like Taylor Swift, but either way, I found many parts of this novel terribly offensive. There is one scene where Starr and some of the other characters continuously mock her white boyfriend for all the things he does that have been labelled as "white", then when he asks a question about black people's name choices, the characters are immediately insulted. I found this part of the novel just ridiculous.
I just realized all of these negative reviews are from butthurt white people. There's mentions of reverse racism (which doesn't really exist, my friends, it's not a thing) and a lot of why are they mean towards white people, which is just ridiculous. Truly. And lol the line "Admittedly, I do like Taylor Swift". You tried.
And that concludes my reacting to negative reviews post! Let me know how you liked this, if it was fun for all of you or if it was a total fail. If you liked it, I would be happy to do more of these in the future!
xxx
Come hang out with me:
Follow me on Bloglovin' | Goodreads |Facebook| Tumblr| Twitter | Instagram|Pinterest
*Vectors graphics designed by Freepik