Let's judge some books by the cover, shall we? 
Every month, I pick some books with pretty covers and then I show the ones with best blurbs to you.
Basically, I spend a lot of time on Netgalley, and scouring the Internet for new releases, so I am gonna do that, but pick the books based on their cover. Then I'll read the blurbs and pick my favorites and then I share them with all of you!
So the basic formula of this post is pretty books meets new releases I am excited about. 
You guys know how much I love my pretty covers, and this month really had some strong contenders, so it was kind of hard to choose. But! I succeeded and I bring you the prettiest releases (cover and blurb wise) of November!
1. The Lonesome Bodybuilder by Yukiko Motoya
Release Date: November 6th 
Why I love the cover: Well, firstly, I really like the title of this. It's so weird and cool. And then, I just find this cover to be incredibly aesthetically pleasing. I love the pink color that dominates the cover, and it just sort of looks quirky. I like that and I think it fits the vibe of the book.
Why I love the blurb: I love the sound of this short story collection because it stands just on the edge of weird and I love stuff like that. There's a story here about a woman who decides to start bodybuilding (hence the title), and she starts getting invested in how her body is changing, but her husband doesn't notice the change. Or a story about a saleswoman who waits for ages for her customer to come out of the dressing room, and the customer may or may not be human. It's a take on the everyday life where one thing is completely bizarre, which is definitely my jam. Looking forward to this one!
2. Madame Victoria by Catherine Leroux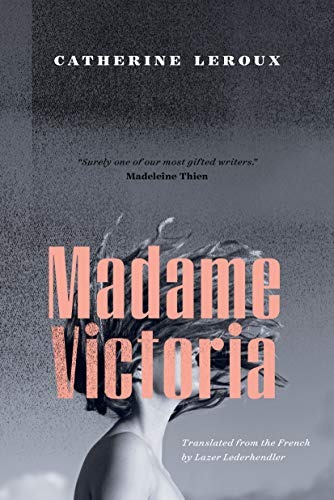 Release Date: November 13th 
Why I love the cover: I am obsessed with this one. I love that there's a woman, but her face is hidden behind the title and it's all black and white except said title. I think it's such a striking cover that puts emphasis on the title in a different way, and I love how it looks.
Why I love the blurb: This is inspired by a woman whose skeleton was found near a hospital in 2001. She was never identified, but remained known only as Madame Victoria. This book sort of takes inspiration from that event and gives Madame Victoria a background and an identity, but told in 12 different versions. This sounds incredibly poignant and unique, and I would really love to get to this one.
3. Vita Nostra by Sergiy Dyachenko and Maryna Shyrshova-Dyachenko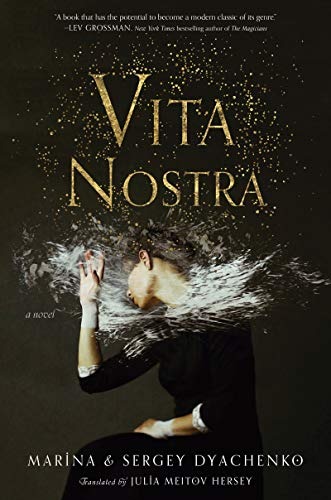 Release Date: November 13th 
Why I love the cover: This is arguably my favorite one on the list this month. I want this framed and put front and center in my house. It's so gorgeous and sort of powerful? I don't know, it's brilliant.
Why I love the blurb: This blurb is the weirdest thing I have ever read, which immediately grasped my attention. And because this is originally in Russian, so this weirdness gives me a lot of Master and Margarita vibes, which is GREAT. It's about a girl who meets a man who makes her do all these things to earn gold coins and then ends up sending her to a school where everything is strange and nothing can actually be learned. I am confused and I am intrigued.
4. How She Died, How I Lived by Mary Crockett
 
Release Date: November 13th
Why I love the cover: It's really striking and it looks real cool. But moreover, it ties into the premise of the novel which is my favorite thing ever.
Why I love the blurb: This is a YA novel following a girl as she tries to live and cope with the murder of one of her friends. She was one of the "chosen", one of the five girls (hence the cover) who got a text from the murderer on that day, but only her friend Jamie responded to that text, which got her killed. It's a year after the murder, and the narrator is trying to learn to live and let go of the horrific thing that happened to her friend.
5. How Long 'til Black Future Month? by N.K. Jemisin
 
Release Date: November 27th
Why I love the cover: It's so amazing and looks so badass. Like I love the decoration in her hair. I want to wear that even though I could never look this good with it. This cover is bomb and we need more covers like this. Make them all this fierce. I feel like I can take on anything when I look at this cover. Even though I can not take on basic human tasks. 
Why I love the blurb: I have heard nothing but fantastic things about N.K. Jemisin, and I am positive this short story collection is going to be amazing. There's a story about dragons and spirits that roam the streets of New Orleans after Katrina and there's one where a utopian society watches ours from a parallel universe and they try to learn from our mistakes. That just sounds brilliant and I cannot wait to get this book.
And those are this month's pretty new releases. It was so hard to choose this month! But I am more than excited about this selection. Let me know your favorite one and as always, let me know about pretty books you found recently!
xxx
Come hang out with me:
Follow me on Bloglovin' | Goodreads |Facebook| Tumblr| Twitter | Instagram|Pinterest
*Vectors graphics designed by Freepik