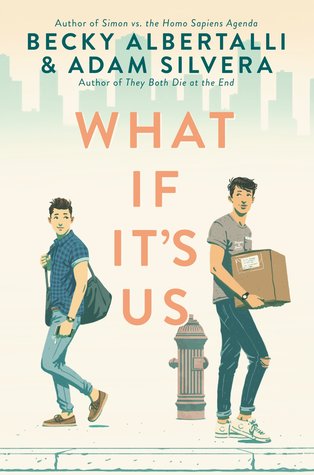 "I don't know if we're in a love story or a story about love." 
I remember when this book was announced how excited I got. I am a huge fan of Becky Albertalli's (I was blown away by Simon vs.) and I've always wanted to read an Adam Silvera book. SO when they announced a project together, about two boys falling in love in New York, I was super excited for it! I have to say though, I had really high expectations going into this one. It might be one of the reasons why I wasn't that impressed with this, but overall, this book left something to be desired for me.
What If It's Us is told from two perspectives – one of them is Arthur, a really dramatic, Yale-bound Jewish guy, doing an internship in New York and the other is Ben, a recently broken up Puerto Rican guy who is stuck in summer school with his ex. The two meet in a post office but don't exchange any contact information. But the universe keeps pushing them towards each other.
This book had so much good in it. There's a lot of representation on the page and it was so nice to see. I loved seeing Ben's struggle with being "white-passing" be handled so well and with so much nuance: on one hand, it really affects the way he feels about his own culture and how removed from it he feels when he is not with his family, but also accepting that he has a lot of privilege that stems from that. There was also a lot of healthy discussion about relationships and sex and it was handled really well.
Moreover, I really liked Ben and Arthur as characters. Arthur is overly dramatic and larger than life but he is also really sweet and caring. Ben is really chill and kind of mellow which I could relate to, to some extent. And I did enjoy them as a couple. They had a lot of cute, awkward interactions, which felt really authentic and organic, despite being so awkward.
And I really loved the ending. It was a very mature and realistic way to end the book and while I can see why some people might not enjoy it, I personally loved it.
Also, there's a whole bit about Hamilton. You can't go wrong with Hamilton.
However, I was severely bored while reading this. Honest to god, I just kept waiting for it to be over which is never a good sign. This book is over 400 pages and I honestly think it could have been 300 and had the exact same pan out. I just think it was riddled with unnecessary stuff.
Another thing is that I found that the accent on destiny and sort of faith was too much for me, especially when it played into the way Ben and Arthur felt about each other. I feel like it was all too fast and insta-lovey and I was not a big fan of how that dynamic developed all at once.
And another slight grievance I had is that I really did not click with Adam Silvera's writing at first. It took some getting used to not be annoyed while reading Ben's chapters.
All in all, this had a lot of good but a lot of it was really meh for me. However, I would still recommend this one, just for all that good.
Final verdict: 3 stars
Have you read this one? What were your thoughts? Also, let me know what your fave Adam Silvera book is, because I would love to check his work out!
xxx
Come hang out with me:
Follow me on Bloglovin' | Goodreads |Facebook| Tumblr| Twitter | Instagram|Pinterest
*Vectors graphics designed by Freepik