A feature in which I share new books I added to my TBR.
Hello, everyone! I hope everyone's December is going great and I hope it's less stressful than mine. EVERYTHING IS HAPPENING and I cannot keep up. Anyways, we all know how I cope with stress – adding books to my TBR! So let's check out these new and exciting recent additions!
Sidenote: I am debuting new featured graphics! I hope you like. Because I will cry if you don't.
1. Fire Sermon by Jaime Quatro 
Why I added it: This book is frequently recommended on Book Riot's podcast and those podcasts fuel my TBR, so it's only natural it ended up on here. This is a literary fiction novel about a woman who has been married for twenty years, but who finds herself beginning an affair that questions her views of life and morality. It sounds like a really profound character study, and I love those, so I am really looking forward to this one.
2. The Devouring Gray by Christine Lynn Herman 
Why I added it: Because of this: "Fans of The Raven Boys and Stranger Things rejoice. This is your new obsession". And that's me! I am that fan! And I need new obsessions, always. This is about weird things happening in a small town. My heart! And also a girl who is new and who meets these weird kids who may or may not have weird magical powers. I don't know how my poor soul will handle this but I am so ready. I have really high expectations for this one which is rare for a book that I have so little information on. But it's that Raven Cycle comp that gets me.
3. Girl Made of Stars by Ashley Herring Blake 
Why I added it: Because all my blogging friends are obsessed with it. And because it sounds brilliant, albeit devastating. The story follows Mara who is really close to her twin brother Owen. And then Owen gets accused of rape by one of her friends and Mara starts to question everything. Plus, she has to navigate a strained relationship with her ex-girlfriend and best friend, Charlie. This sounds like it will break my heart into pieces and I am scared and excited to get to it.
4. The Dark Descent of Elizabeth Frankenstein by Kiersten White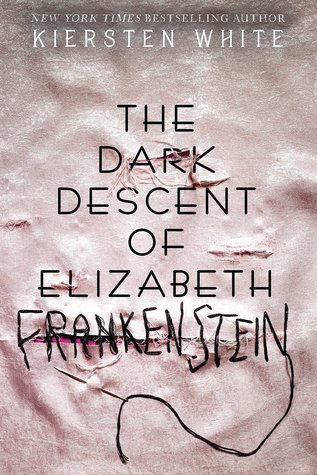 Why I added it: Again, it has been highly praised by my friends and I just think it sounds really promising. It's a retelling of Frankenstein but with a twist – we follow Elizabeth, who gets sort of adopted into the Frankenstein family and becomes friends with Victor Frankenstein. But as he becomes darker and more dangerous, Elizabeth has to learn how to survive, no matter what. I just think that this has all the potential to be brilliant and I am really excited to get to it.
5. The Reckonings by Lacy M. Johnson 
Why I added it: This is a collection of essays that focuses on questions of sexual assault, justice and retribution, that is grounded in Johnson's own experience with sexual assault. It sort of draws on the question she got asked at a reading once – what would you want to happen to your rapist. These essays are founded on the writer's own experience, but she also uses art and philosophy and history to write and I think this sounds exactly like my kind of books!
And those are some new books I added to my TBR recently! As always, I'd love to hear your thoughts on these and to hear about some new books you discovered recently!
xxx
Come hang out with me:
Follow me on Bloglovin' | Goodreads |Facebook| Tumblr| Twitter | Instagram|Pinterest
*Vectors graphics designed by Freepik