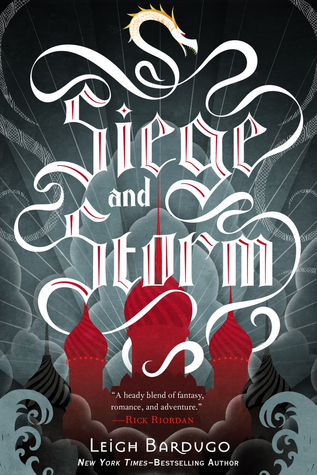 "When people say impossible, they usually mean improbable." 
When I decided to reread Shadow and Bone (full review HERE) and continue on with this series, I did not necessarily expect to fall in love with it. But I did hope that it will at least be fun. Or that I would come to understand The Darkling hype. Or that the characters would grow and evolve. Since I love Six of Crows and would die for those characters I could not deal with at least not somewhat enjoying this series too. Sadly, none of those things happened.
Siege and Storm is the second novel in the Grisha trilogy, where Alina and Mal find themselves being stupid again and they go on Sturmhond's ship and things happen. Seriously, I don't even know.
It's really hard to enjoy a series when you really dislike the main characters. I truly cannot stand Alina and Mal. I feel like Alina should be interesting in theory but I feel like a lot of her characterization is show and not tell. I feel like constantly the author is trying to tell us how Alina is this edgy character, with a power-hungry dark side, but I did not believe that FOR ONE SECOND. Never. I never could see that in her and I felt like that was just not handled well. On top of that, I find her characterization flimsy and inconsistent, especially when it comes to her feelings towards Mal, The Darkling and Nikolai. I never really saw her as caring for either one of them, and yet there was this sort of love square (?) between them.
Mal is just insufferable and the most basic character in the history of YA. I just can't with him. I cannot even write anything about him because he is just that bland.
And I honestly don't get The Darkling hype. I think he is the most basic villain of all time and I just don't get any chemistry between him and Alina. I really don't. And I think that the online version of him that I constructed through people's edits and posts is far more interesting than his actual character, so I really wish I did not read this at all and stayed in my blissful ignorance.
I think the plot of this is really boring. I was never engaged and not a lot of things happened really. And those that did weren't that exciting. I found myself skim reading and just being over it by the end of the book. One thing I did enjoy is the sort of court politics and war politics that we saw when Alina got to The Little Palace, but that quickly dissolved into her pining about Mal, so it was over before it really started.
I am still mad about how unoriginal this is. I am mad that this isn't Russian inspired, it just is Russian but it's called Fantasy. Like taking actual words and just slightly altering them does not make world-building. And its just lazy. For example, Nikolai has this brilliant invention that was first called Hummingbird (but then later something else, that I already forgot because that's how little I cared) that is BASICALLY a plane. He invents a plane. Please.
My one silver lining for this book is Nikolai. I love him, I am obsessed with him and ultimately I am glad I got to read this because I met him and I can read King of Scars now. I think he is a fantastic, multi-layered character and it's no surprise that he is the one who gets a book of his own, since I feel like he is one of the most developed characters. This book gets a slightly higher rating SOLELY because of him. Nothing but respect for my king.
There was just not anything for me to hold on to in this series. Not even the news about Netflix TV show of the Grishaverse (!!!!!) will make me read the last book of the series which is just saying a lot. Plus, I already read a summary of it and I am so glad I did not have to suffer through that. Sadly, this series doesn't live up, and I would not recommend it.
I would love to hear from you as always! Did you read this and what did you feel about the Grisha trilogy? DID YOU SEE THAT THEY ARE MAKING A GRISHAVERSE TV SHOW? Any thoughts on that? Let me know!
xxx
Come hang out with me:
Follow me on Bloglovin' | Goodreads |Facebook| Tumblr| Twitter | Instagram|Pinterest
*Vectors graphics designed by Freepik