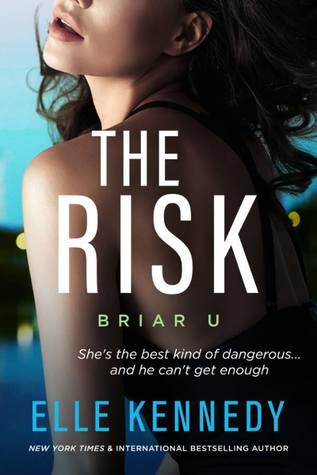 Elle Kennedy knows the way to my heart.
Sorry for being MIA this past week – school is hard, man. I have barely been reading and I honestly did not have a minute to spare, so I wasn't able to write blog posts. But I had a bit of a down time (like two days, but hey, you take what you get) and naturally, when I got an ARC of Elle Kennedy's new release – The Risk, I knew how I would spend my time.
Elle Kennedy writes Romance and I love her Off-Campus series so much, It's a lot of fun, even if it's not by any means perfect. The Risk is the second book in her spin off series, Briar U. I read the first book in that series, The Chase, last year and I really enjoyed it. But this one totally blew it out of the park for me.
First of all, I love Brenna. She was my favorite character from the first book and I just love how badass she is. She is a really compelling character, she is strong and confident and she doesn't really give a damn about other people's opinions. Really loved her.
And Jake Connelly was fantastic. He is incredibly confident and sure of himself, but a lot of times that can come off as douchey and annoying, and that never happened here. Jake is really sweet actually and he is ambitious but he also cares a lot. He is also really upfront and honest and I really appreciated that.
And the other characters in this book were also amazing! I love Hollis a lot, I like Brooks a lot, and there's this new character that pops up – Rupi, and she is just wildly entertaining and fun and I would love to read a book about her.
This is an enemies-to-lovers Romance, but I feel like it was never the dramatic, I hate your gut kind. It was handled differently and it felt fresh. Jake and Brenna are "enemies" but you can tell from the get go that Jake never hates her, he is from the start just into her. And that was interesting to read. Their banter was also fantastic and I really loved their dynamic a lot.
I also love the discussions that this book raised. Brenna is really into hockey and she wants to become a sports journalist but she faces a lot of sexism in the industry and that was really handled and explored well. Moreover, there are discussions of toxic relationships and how people that we love can hurt us, even unwillingly, and how it's difficult to let go of someone you love when they are not good for you. I think that aspect was also handled well.
If you are looking for a good Romance book, I highly recommend this one! The characters are really great and their dynamic is handled well. It's OUT TODAY, so be sure to get it HERE!
Final verdict: 4.5 stars
Let me know in the comments if you read Romance, and if you do, give me some recommendations of your faves!

xxx
Come hang out with me:
Follow me on Bloglovin' | Goodreads |Facebook| Tumblr| Twitter | Instagram|Pinterest
*Vectors graphics designed by Freepik