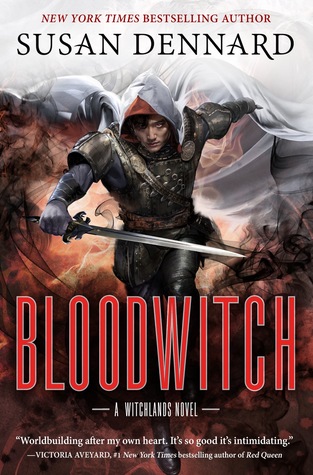 I am quite sure that by now, you are well aware of the love I have and hold for Susan Dennard's The Witchlands series. I have screamed at you about Bloodwitch for months now and it feels surreal to finally have this book in my hands and to be reviewing it after anticipating it for so long. This was without a doubt my most anticipated release for the year and I have been waiting for this one ever since Sightwitch published. If you want to see more of me gushing about the series, you can check out the numerous posts I did for it. My reviews for the rest of the books in the series are here (Truthwitch, Windwitch, Sightwitch) .
Bloodwitch follows the events of Windwitch, and it's a book that shifts the focus to Aeduan and his past and present. There will be no spoilers for Bloodwitch, but since this is the third in the series, there might be spoilers for previous books! So be aware of that!
We finally got a book that focuses on Aeduan and I don't think you understand how important he is. I love that we got to learn more of his past and to see how that made him who he is and how he harbors so much hatred for himself because of his witchery and the way people have treated him because of it. He is by far one of my favorite characters ever, and he was that from the get-go. I feel like his character embodies the true anti-hero archetype, and it was so great to see that explored in this novel. Needless to say, Dennard handled that masterfully.
Each of the books so far focused on one character slightly more, but there was always the common theme that tied all the storylines together and there's always a mirroring in the journey each of the core characters take in the novels. This one in my opinion not only did the best job of tying the storylines together, but it also focused on the theme of unlearning what you have been taught your whole life and overcoming your own ideas of who you are and just accepting yourself. And it's a theme that is really relatable and I loved seeing all the characters go through the motions and it was such a rewarding experience by the end for each of the characters.
This is by far the best book in the series. Don't get me wrong, I love all of them and each one is great in its own way – but everything in this book exceeds both my expectations and the expectations set up by previous books. This has the best pacing, the best writing, the best plot, the best characterization… It all sort of came together in this book and I was totally blown away by it. It sets the standard HIGH and I cannot wait to see where it goes on from here.
And it bears to note that I feel like Susan's writing and storytelling really excelled in this novel. A lot of the first three books is groundwork for the series as a whole, while with Bloodwitch, the world feels well grounded and the characters are all familiar to us and I feel like this is where you can truly see Susan Dennard's potential. The Witchlands series is really complex and now that a lot of the threads are set, Susan really weaves them all together so beautifully and I just love how much foreshadowing there was in previous books and how all of it came to fruition in this book.
The pacing in this book was also really well done. I felt like each of the characters' arcs was given enough time to develop and that the book flowed really well. It was really well paced and I never felt like the story dragged or went too quickly. It was really well handled.
Finally, to end on a very on-brand note for me, I just loved Aeduan and Iseult in this. This is the ship to end all others and I love how their relationship developed in this book. Plus, the way their dynamic is written is so wonderful, because all of their communication is with anything but words and it's very subtle, and I really appreciated that. It was fantastic and the book gets 10 stars for that.
I LOVED this installment of the series. It was incredibly written, the characters were amazing and had amazing development, the world is still wonderful and the pacing was on point. I highly recommend this series, and if you are already a fan – don't wait to pick this one up!
Final verdict: 5 stars
As always, I love to hear from you! Any thoughts, questions, musings on the review or this series? Have I convinced you yet to pick it up? Let me know!
xxx
Come hang out with me:
Follow me on Bloglovin' | Goodreads |Facebook| Tumblr| Twitter | Instagram|Pinterest
*Vectors graphics designed by Freepik