You are entitled to your own opinion but you are wrong.
I guess this is now a new feature on the blog! I did two posts like this previously and you can find them HERE and HERE. But you liked them both which 1. thank you and 2. means I want to do more of these. And I have barely any time to read so the only natural thing is to further bum myself out by reading negative reviews for books I love.
I am gonna be pulling negative reviews from Goodreads (or some of my friends) of some of my favorite books and then I am gonna be reacting to them. This is gonna be sad and fun, which is exactly what we aim for here on Inside My Library Mind. So let's get into it.
DISCLAIMER: I am using reviews that are available online. I don't want anyone to be offended and I am just doing this for fun. If we don't like the same books, that's great and that's the beauty of literature. So that's that! Here we go!
This Book is Objectively Amazing, I Am Sorry – Sadie by Courtney Summers
Goodreads overall rating: 4.23
This was one of my most favorite reads of last year and I really think that it's a fantastic book. Sadie is one of the most compelling main characters I've read about in a while and her relationship with her sister is written in such a raw and beautiful way that made me feel so invested in this book. It's like objectively fantastic. Please. Here's my review but let's hear from people who are wrong.
Jenna said:
"I'm honestly blown away that the reviews on this book are so great.. I saw the ending coming from page 50 when I read a good thriller I expect to be thrilled, and I was not in the slightest. This read like a regular teen fiction which is not a bad genre but thriller it was not for me."
My reaction: I don't think that this ending was meant to be a big surprise? I genuinely don't. This story is about reclaiming agency and especially about a young woman fighting back and taking back her power from men who hurt women. So I don't think that the build-up was supposed to be that unexpected? Also, isn't it annoying when people say teen fiction like it's a bad thing, but then retract by saying "it's not a bad genre"? Asking for a friend and that friend is Jenna.
Jenn said:
"Couldn't finish it too close to home with kids"
My reaction: That's it, that's the review. Hitting too close to home – one star. Honestly, same, emotions are too much of a fuss, Jenn. I mean they are objectively bad, so we want none of that. See, me and Jenn ended up agreeing and all is nice in the world again.
How Can You Hate Happiness? – Foolish Hearts by Emma Mills
Goodreads overall rating: 4.24
You know I think the world of Emma Mills. Her books are just sunshine and happiness in book form, with the most amazing and realistic characters and with the most wonderfully complex and special friendships. Seriously, Emma Mills is a person who really knows how to write about teens profoundly and yet realistically. We stan. Here are my reviews for her first three books, and her latest one. And now let's hear from people who dislike being happy.
I really didn't like this unfortunately. The characters who are supposed to be in their senior year of high school acted like middle schoolers with some of the cringiest dialogue. I highly dislike contemporary because of the drama that is normally the main point of the plot and this was solely focused on female drama that didn't even need to exist and was made to be such a big deal.
My reaction: I think you can say a lot of stuff about this book but the dialogue is objectively hilarious:
"You don't think you could change Darth Vader?" I say.
"Nah, girl, Padme tried."
"I feel like I would fuck Darth Vader, because he's got like powers and stuff, you know?" Alex says. "How would the force factor in? How would we negotiate the suit and stuff? It's a guaranteed wild ride from start to finish." 
Is this cringey? Only if you hate humor (thank you to Elise @ The Bookish Actress for this snippet).
Also, Holly, what is FEMALE drama??? Is a plot revolving around female friendship FEMALE drama? I am confusion. This book celebrates female friendships in the best possible way??? I think by female drama Holly means that this book is focused on the drama department in a high school and there are female identifying people there. So yeah, Holly, you are totally right.
J.K. Rowling Sucks but I Still Love These Books – Harry Potter and the Philosopher's Stone by J.K. Rowling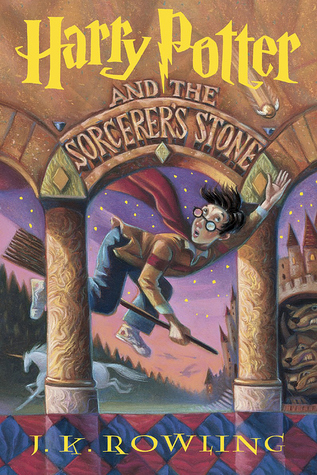 Goodreads overall rating: 4.46
I feel like we all love Harry Potter so much that we sometimes forget that there are people who haven't read it as kids, or who don't care as much about it and that like, actually hate these books. It's a wild concept, but it's also really interesting and a cool thing. When you think about it. Plus, J.K. Rowling REALLY sucks, so let's hear some people trash her books. And my childhood, but still
"'Not enough sex' was my first thought, but then we do get to this part where boys are discussing the length and capacities of their wands and I perked up for a moment until I realised that they were actually talking about wands."
My reaction: This made me laugh but it also makes me wonder if this reviewer is okay? Is the thing they're not getting enough sleep and therapy? Seems to me like that might be it, so let's just move on.
"Pathetic. Really pathetic.

Harry Potter is more of a Mary-Sue than Eragon. More than Nancy Drew. More than the worst of fanfiction I've seen.

.

.

.

Harry wasn't any excuse for a hero. He did nothing, he just sat around and things happened to him. End of story. His fame was inherited, his fortune was inherited, he lived with his relations and allowed them to bully him, and couldn't even manage to read his own mail. His wonderful skills were not worked at and studied for years but picked up instantly, and he bet the bad guys by electrocuting them with his infamous zapper skin.

I could go on for hours. The thing that really gets to me is that this is the great literature of our age? What hope is there for any decent writers if all kids want to read is this utter garbage? What hope is there for the world if kids are growing up thinking this is good literature?"
My reaction: I always love a review that starts with "pathetic". Also, exactly, Harry did not want to be a hero? He was literally just sitting there??? Exactly?? He was sitting in his crib when this bald dude without a nose just came and wanted to kill him?? And then his whole life he just sits there and BAD things happen to him?? Also we all live with our relations, such is life. Also, saying he allowed them to bully him is a bad take. As if abuse is something you allow. Also, I quite like the people that grew up with Harry Potter, even though J.K. Rowling really did us dirty.
And that concludes another reacting to negative reviews post! Let me know how you liked this, if it was fun for all of you and what you think of these books! Do you agree with me or the reviewers (you know the right answer to that)?
xxx
Come hang out with me:
Follow me on Bloglovin' | Goodreads |Facebook| Tumblr| Twitter | Instagram|Pinterest