Someone should hire me to decide which books should be adapted to screen. 
I am sorry I've been absent on here, but I just don't have a lot of time to post, and sadly, I was never organized enough to preschedule my posts. Anyways, I've seen a few people do this recently, and I thought I should do it too, to be hip and in, so I am going to talk to you today about books I think would look great on screen, more specifically on the TV screen. I tend to watch more tv shows than movies, I love tv shows, and there are so many books out there that would make amazing TV shows. So I am gonna be talking not only about the books, but also the format that I see those books in. So let's go!
Mistborn by Brandon Sanderson
This would make a fantastic tv show! Especially if it were done as a 10 episode per season show – I think seeing Sanderson's magic system and plots on TV would elevate it even further and would make for some really attractive television. On top of that, there's the second era of Mistborn which I think would look AMAZING on TV – with all the guns and the addons in the magic system and the sort of industrial western vibe it has. I genuinely think that if this was made into a tv show with the right people, it could be as big and as popular as Game of Thrones. I just need someone to do it.
Fence by C.S. Pacat and Johanna the Mad
I think Fence would make an amazing teen TV show, that I would obsessively watch, the way I watched Gossip Girl and 90210 (can you imagine?). These characters are so amazing and easy to root for and get invested in, and I would love to see the world of competitive fencing on the screen?? How cool would that be? So much potential, and it would be really awesome if it was done and shot like Riverdale? I think that would look GORGEOUS. Ah, dreams.
The Raven Cycle by Maggie Stiefvater
The Raven Cycle TV show is in the works and Maggie is writing the pilot (!!!) but I just desperately need this to happen while I am also dreading it. I would love someone to do this as mini-series, preferably someone British, but I have so many thoughts and ideas and I would die to see the casting. Seeing this story and these characters come to life would look amazing and would mean so much and I think a quiet miniseries, which would give time to the characters to grow and evolve would be perfect. I have a spoilery review for this book HERE, if you want to know exactly why I love it.
The Witchlands by Susan Dennard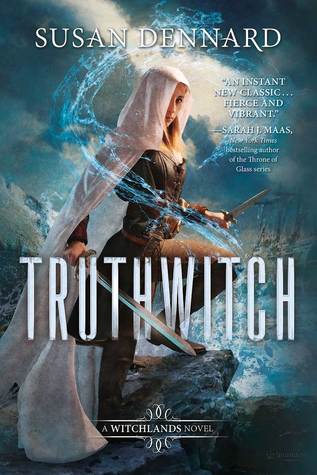 The Witchlands has been optioned for TV, but again, I have to stress how important it is to actually happen. This magic system would look great on-screen and the characters are definitely so well developed and multifaceted that it would be so easy to root for them for numerous seasons. And there's so much story to tell! Plus, this whole cast works so well together, it would make for a perfect ensemble show. Literally, someone should hire me to help with this. You can find my review for the book HERE.
Beartown by Fredrik Backman
As you may or may not be aware, Beartown is one of my favorite books ever, and I genuinely think it would work amazingly as a mini-series. Especially because it tackles so many important topics and does them so well, and it would be great to see that on TV. These characters really make you empathize and root for them, and there's a lot of backstories that can be explored for each. I am pretty sure I saw this was optioned by HBO, and this would be PERFECT as an HBO mini-series and I am seriously going to die when this happens. I cannot wait. In the meantime, HERE's my full review of the book.
Sadie by Courtney Summers
Finally, I think Sadie would look awesome as a mini-series – I would love to see her character come to life, but would also love to see the atmosphere and the despair of this book transfer to a visual experience. Plus, I think the podcast part of it would serve as amazing narration for the show. Plus, this has so many important issues and themes explored and we need more of that on TV. If you want to know more of my in-depth thoughts and why I think it would work well, you can find it HERE.
And that's my TV show book adaptation wishlist! I would love to hear from you – what are some books you'd like to see as TV shows? Are there some that you think would look better as movies? Let me know!
xxx
Come hang out with me:
Follow me on Bloglovin' | Goodreads |Facebook| Tumblr| Twitter | Instagram|Pinterest
*Vectors graphics designed by Freepik