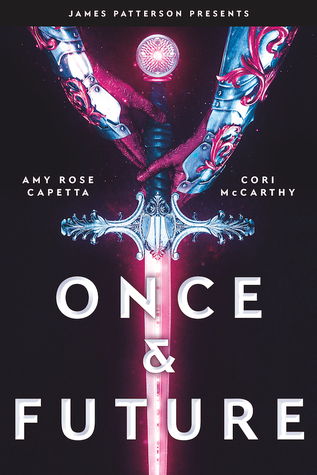 I am sure you have heard me raving about A Cathedral of Myth and Bone (if not, you can do so HERE). Ever since reading that, I've become obsessed with the King Arthur story and legend and all the characters. So I was super excited to see that there was a queer Sci-Fi retelling of King Arthur being published, and I knew I was desperate to read it. So I went into this with really high expectations and sadly they were not met.
 Once & Future follows Ari who is living in space under the thumb of a huge corporation. But when she lands on Old Earth and pulls a sword out of stone, she is revealed to be the 42nd reincarnation of King Arthur and must lead a revolution against the huge corporation.
I am so frustrated with this book, because it had so much good and so much potential in it. First of all, this is incredibly diverse and I loved every bit of it. Our main character is of Arab descent, she's pan, there are major queer side characters, there's a nonbinary side character… It's full of great stuff and I really appreciated that.
I also really enjoyed Merlin's character, although I found him a tad underdeveloped. But I did enjoy him as a flustered gay teen and I did find him to be the most layered character of all. He is fighting with his past mistakes and there's a lot of inner turmoil he goes through, even though it wasn't done as well as I wanted it.
On top of that, I found this book to be quite funny. There are LOTS of really great bits and dialogue moments that were genuinely funny. And I love how the elements of the original story were interwoven into this Sci-Fi romp. And you could tell that the authors were close to the original story and that definitely shines through the writing.
However, for me, the good stuff was really overshadowed by the stuff I had issues with this.
First of all, I found the characters to be really underdeveloped. I had a hard time trying to connect with any of them, and I find they lacked any sort of distinct personality. Maybe it's due to the fact that this is so plot driven, but I don't think we spent enough time with the characters, or that the authors spent enough time building them, because all of them lacked any sort of flavor beyond one single characteristic the other characters used to describe them.
On top of that, I could not even have fun with the plot of this because the writing and storytelling were incredibly erratic. Things just happened and there was no explanation of how we got from point A to point B. It felt like one of those dreams where you're in one place, and then you're in another, but you did not get from one place to another. I could not for the love of me immerse myself in this, because it was so confusing and disjointed. The story jumps around and it's so frustrating, because said jumping around makes you feel so disinterested.
Also, the story never felt really high stake. I never felt like the characters were in any real danger and so everything felt a bit pointless in my head.
I really was so detached from everything happening in this book. I feel like if it were written differently, it could have been awesome, but as it was, I just could not connect.
I'd love to hear from you! Have you heard of this one before? Have you read it? Let me know your thoughts in the comments!
xxx
Come hang out with me:
Follow me on Bloglovin' | Goodreads |Facebook| Tumblr| Twitter | Instagram|Pinterest
*Vectors graphics designed by Freepik