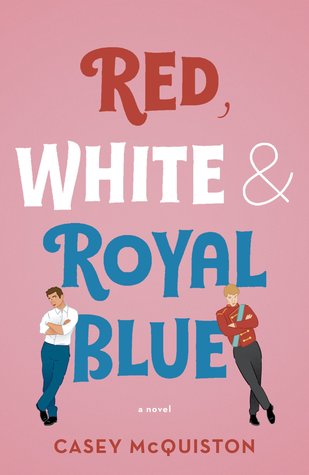 You know those books that get so much hype that you keep thinking that they can never live up to said hype? There's just so much buzz going around that you keep thinking they aren't that good? That's what happened to me with Red, White & Royal Blue. I wanted to read it, but I kept thinking I won't ever like it as much as everyone else does. Well. I read it and I loved it.
Red, White & Royal Blue follows First Son Alex Claremont-Diaz as his mom, the president of the United States, prepares for reelection when Alex gets into an epic fight with his arch nemesis, Prince Henry of Wales during the Royal Wedding. In order to save face, the White House and royal teams stage a fake friendship between the two. Guess what happens next.
I absolutely loved the characters in this novel. It's been a while since I fell in love with the characters of a book as much as I fell in love with absolutely everyone in this book. Alex is a fantastic main character, an easy one to root for and I absolutely loved everything about him. I loved how loud and boisterous his personality is, how confident he is, but also how soft he can be. And then to contrast that there's Henry, who seems cold and aloof BUT HE IS SO NOT. He feels so deeply and is such a loveable character that you just want to PROTECT AT ALL COSTS. I loved them both so much.
And all the secondary characters in this novel were superb. I loved ALL of them and I want a book about each and every one. There's so much room for more books with them and I would die if we got them. I loved Nora and June and I think their relationship with Alex is beautiful, but I also loved how they stood on their own. Also one of my favorite characters was Zahra and I want a whole book about her and Shaan. Please and thank you.
Henry and Alex were adorable. I loved them together, I loved how genuine and honest their relationship felt. I loved the way it progressed and grew and it did not feel rushed to me, it felt very organic and I just loved their relationship so much. I also loved how they had real issues and how they dealt with them and just the way they communicated. They had problems and fights like any relationship does, but I feel like they weren't trivial and that they were also handled really well. And I loved how they helped each other deal with their own issues and also grow from them together but also individually.
And there was so much great stuff in this. There's a lot of representation – Alex is half Mexican and bisexual, Nora is also queer, there's a trans side character, there are POC characters… I just loved how diverse this was and how there were all sorts of discussions about identity, in every way possible and also in the context of both the USA and UK. There was also so many discussions about grief and depression and even substance abuse, and I just think it was all really well done.
I was also absolutely head over heels with Alex's parents and their relationship with their kids. I love how supportive they were of him, and how they always put him first and also how they were both just kickass awesome people.
I also really enjoyed all the politics we got in here. Full disclosure – I am not American and I don't know all the ins and outs of the American political system, but I do have some basic knowledge of it and for me personally, it was a nice addition to the story and I feel like it added another interesting layer. But again – I am not American so it might not be as good as I found it to be.
And I will say that this book felt so genuine. I love when pop culture is incorporated into books, but I don't think it's done well that often. This was not the case. I loved how pop culture references came so effortlessly, how texting and generally communication were handled in here – it all felt so genuine and real and organic and I loved it.
On top of it all, I finished this book with such a warm and hopeful feeling. It was so good and it made me feel happy and good and I am so grateful to have read it because it was just a ball of happiness in book form.
This book isn't perfect. Its biggest issue, in my opinion, is the pacing – the pacing is truly off in here and the book is too long. There's also these weird time jumps that happen, and the reader is never properly warned, so it takes some getting used to. I also feel like some of this was a bit far fetched. But then again, I don't think that it's supposed to be that realistic. Also, while Alex and Henry's relationship did develop organically and it felt real and fleshed out, they went too quickly from enemies to friends, and while it makes sense in the grand scheme of things, I wish we got a bit more of the tension that comes with them "hating" each other.
However, while I might have really disliked these things in some other book, I really did not care that much about them here. I have said this before but I can forgive almost anything when I love the characters, and that was the case here. The things I mentioned above in no way lessened my enjoyment of this novel, because I loved it so much.
If you want to read something that will make you feel genuinely good and happy and something that is filled to the brim with genuine, good stuff – this is the book for you. Fantastic characters that you will absolutely adore and a romance that is beyond adorable.
I'd love to hear from you! Have you read this (if yes, please scream about it with me)? Is it on your TBR? Any happy books you'd like to recommend? Let me know!
*I received a free eARC of this from the publisher in exchange for an honest review. All gushing feelings are entirely my own.
xxx
Come hang out with me:
Follow me on Bloglovin' | Goodreads |Facebook| Tumblr| Twitter | Instagram|Pinterest
*Vectors graphics designed by Freepik